Becoming an IAS officer in India is what most youngster dream of, but not everyone is capable of becoming one. To crack the IAS exam, you have to be devoted towards your goal, just like Lord Hanuman was devoted to Lord Rama.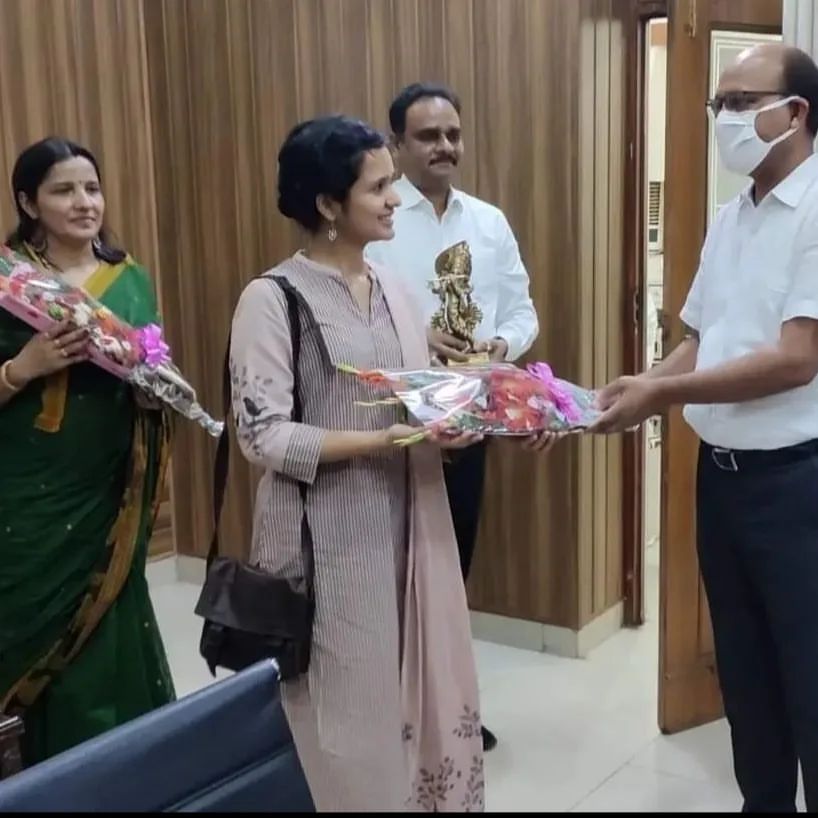 Every Year we hear many amazing success stories of how people cracked the IAS exams and fulfilled their dreams. In this article, I am going to talk about one such great personality who cracked the first position in civil services exams in 2021 and become a figure of inspiration for millions of youths who dream to achieve a similar designation.
Before we start our discussion on IAS Shruti Sharma, let us try to understand the importance of the Civil Services Examination in India and why youths are crazy about this.
Importance of Civil Services Exam in India
1. Prestigious Examination
In a country like India where people are ready to die in the name of pride and prestige, the Civil Services Examination (CSE) is considered one of the most prestigious and competitive exams in India which is conducted by the Union Public Service Commission (UPSC) to recruit candidates for various administrative positions in the Indian government.
2. Three-tier Examination
The CSE consists of three stages which begin with the Preliminary Examination (Prelims) then the candidate has to pass through the Main Examination (Mains), and finally the Personality Test (Interview) conducted where the candidate is interviewed to check his eligibility for the job.
3. Vast Syllabus
To succeed in this exam a candidate has to cover a vast range of subjects, including Indian history, geography, economy, polity, science and technology, environment, current affairs, and more which requires in-depth knowledge of various topics and prepares the student to know the diversities in India.
4. Multiple Language Options
The CSE is flexible with language mode and conducted in both English and Hindi languages, allowing candidates from different zones to choose the language they are comfortable with for the examination.
5. All-India Level Examination
The CSE is conducted at an all-India level, meaning candidates from all states and union territories of India can appear for the exam so that every individual irrespective of his or her social belonging has an opportunity to compete for the civil services.
6. Multiple Service Options
The CSE is a gateway to various prestigious services, which include the Indian Administrative Service (IAS), Indian Police Service (IPS), Indian Foreign Service (IFS), Indian Revenue Service (IRS), and more which candidates can choose based on their preferences and available vacancies.
7. Rigorous Selection Process
The CSE follows a rigorous selection process that includes multiple stages and evaluates a candidate's knowledge, aptitude, analytical skills, and personality traits to ensure that candidates selected for civil services possess the necessary qualities and intensity to serve the nation.
8. Transparency and Fairness
The UPSC is known for its transparent and fair examination process as it ensures that the exam is conducted impartially, maintaining the integrity and credibility of the selection process and each student have an equal chance of getting selected.
9. Limited Attempts
CSE is not a life-long process and candidates have limited attempts to clear the examination based on the category of the candidate general category candidates have a maximum of six attempts, while OBC candidates get nine attempts, and there is no restriction for SC/ST candidates until a certain age limit.
10. High Success Rate for Hardworking Candidates
Despite its competitiveness, the CSE offers numerous success stories for those who are hardworking and dedicated and consistently prepare with determination, who have a good chance of clearing the exam and securing a position in civil services.
This was about the importance of CSE in India as it is the prized possession which the Indian youths dream about, but before knowing about Shruti Sharma IAS, let's discuss the history of CSE.
History of Civil Services Exam in India
The Civil Services Examination (CSE) has its roots in the British Colonial Period as it was first introduced by the British East India Company in 1955 to fill their administrative positions in the Indian Civil Services with deserving candidates.
The Macaulay Committee was appointed in 1853 and recommended that it is an urgent requirement to establish a competitive examination to ensure the recruitment of capable individuals for the civil services which was followed by the Britishers and the set-up of CSE was designed. Initially, the exams were conducted in London and were only open for British nationals but in 1864 the examination was held simultaneously in London and India, allowing Indian candidates to appear for it.
But after we got Independence in 1947, the entire process of recruitment for civil services underwent significant changes when under Article 315 of the Indian constitution, Union Public Service Commission (UPSC) was established to conduct this examination. Also, in 1979 CSE adopted the current three-tier examination system of Prelims, Mains and Interviews.
In 1997 to provide equal opportunity to candidates with different linguistic backgrounds, Hindi was introduced as a mode to attempt the exam. Until 2013 the candidates were required to choose two optional subjects from a list of numerous subjects for the Mains examination which was discontinued and now there is only one general studies paper in the Mains.
These are some important landmarks in the history of CSE examinations happening in India and now we will start to explore the success story of Shruti Sharma IAS, which will inspire all of you to become what you want to be.
Shruti Sharma IAS Education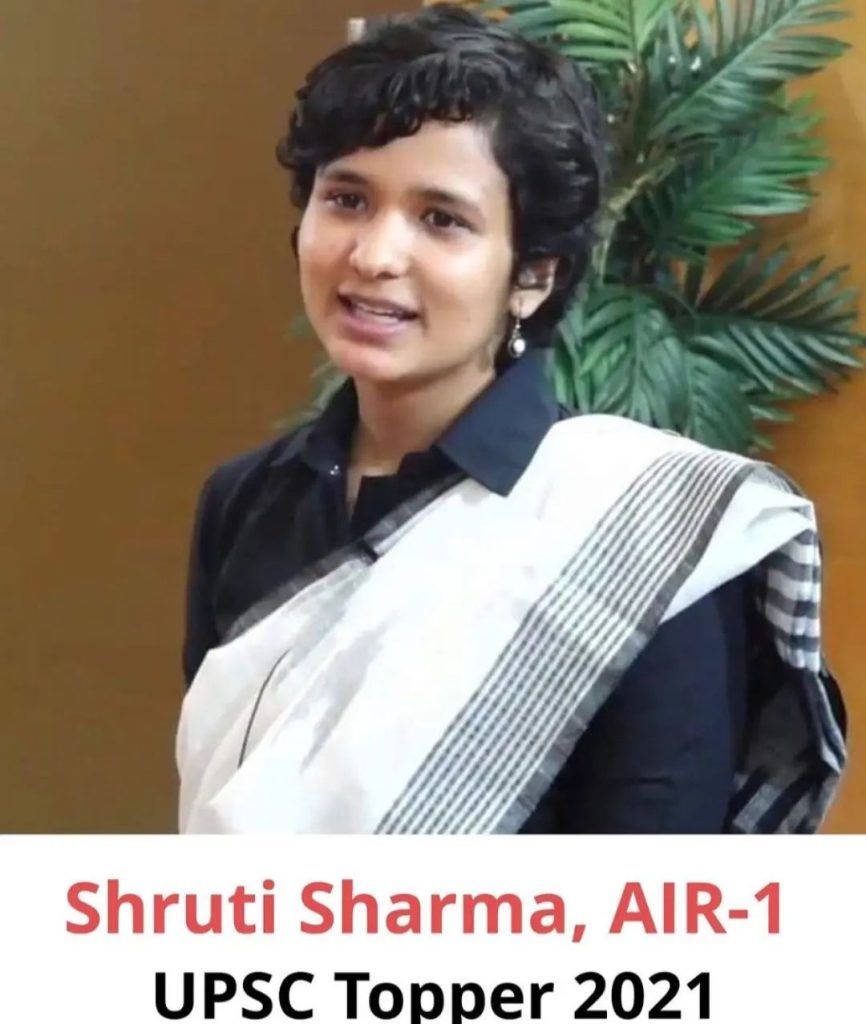 Shruti Sharma IAS was born and brought up in New Delhi where she spent most of her childhood but her family history belongs to Basta Village in Chandpur Tehsil in Bijnor District Uttar Parades. She completed her primary education at Cambridge Primary School in Delhi where she was until fifth grade and later, she got enrolment into Sardar Patel Vidyalaya, Delhi where she completed her secondary and senior secondary schooling and passed out with flying colours.
During her school days, she got the honour to act as the secretary of cultural affairs and was responsible for organising various events for the school. Later, she pursued her Bachelor's degree in History at St. Stephen's College, Delhi where she was part of numerous college events and debates which slowly gained her interest in CSE.
After completion of her Bachelor's degree, she joined Jawaharlal Nehru University (JNU) but due to some personal issue, she has to drop it later she joined Delhi School of Economics to complete her Master's in Sociology.
It was during this phase when she was pursuing her master's, she joined Jamia Millia Islamia Residential Coaching to prepare for CSE. Shruti missed her interview round by one mark in her first attempt to CSE but she was not disheartened and reattempted CSE for the second time and became the table topper.
Shruti Sharma IAS Age
Shruti Sharma IAS was born in 1997 in Dhampur, Bijnor, Uttar Pradesh and when she achieved AIR 1 rank in CSE she was only 24 years of age, and giving her second attempt in the competition.
Shruti Sharma IAS Height, Weight and Physical Appearance
Shruti Sharma IAS is a having black eyes and black hair, with a height of 5'5" approx. which is quite good by Indian standards, and a weight of 55 kg behind which her active lifestyle may be the reason.
Shruti Sharma IAS Family
Shruti Sharma IAS is from Bijnor, Uttar Pradesh where she spent most of her life span with her mother Rachna Sharma who is a former teacher, father Sunil Dutt Sharma who is an architect, runs a construction consultancy firm in Delhi and also oversees a local school name Bal Gyan Niketan School and brother whose name is not confirmed but some sources name him as Anjum, represents Uttar Pradesh Cricket in under 25 category.
It won't be wrong to say that most of her family members belong to the doctor profession as her great-grandfather Dayaswaroop Sharma, grandfather Devendra Dutt Sharma, her parental uncle Yagya Dutt and her cousin sister are all doctors.
Shruti Sharma's IAS UPSC result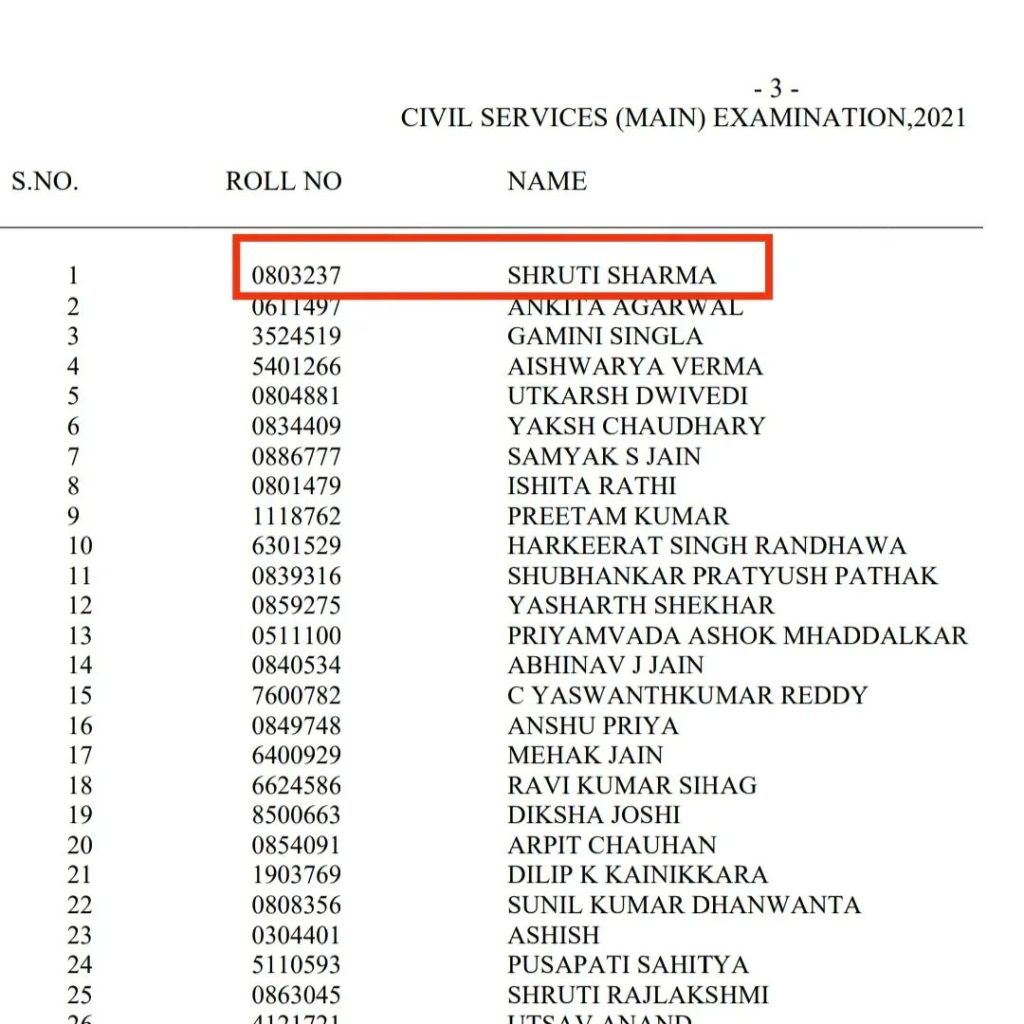 Shruti Sharma IAS cleared the UPSC examinations in her second attempt, where she scored 54.57% marks scoring 1105 out of 2025, securing the AIR 1st position.
Shruti Sharma's IAS Mark Sheet
Shruti Sharma's IAS achievements
She was the top scorer for the UPSC examination 2021, securing AIR 1st position only during her second attempt, scoring 1105 marks out of 2025 marks in which 932 marks were secured in the mains and 173 marks in the personality test.
Ever since 2015, she is the first woman to top the list of performers in UPSC examinations and the third-ever woman to do so in the history of this examination.
She has a great affection for Urdu which she learned and participated in various debates during her college days bringing laurels to the institution.
She was among the 23 students who were able to qualify to prepare for the UPSC exams at Jamia Millia Islamia Residential Coaching Academy.
Though traditionally she belongs to a family of engineers and doctors, she took a brave decision and selected art to pursue her education.
She focused on self-paced learning, prepared her notes from newspapers and focused more on writing practice to improve her presentation.
During her interview, she stated that she wanted to pursue a career in civil services because she believed that she belongs to a privileged family and was willing to return what society has given her.
She is very fond of world cinema and watched a wide range of multilingual movies including Iranian and Hongkong and also, she loves to read the poetry of Sarveshwar Dayal Saxena and Dushyant Kumar.
UPSC 2021 AIR Top – 20 Performers
| | | | | | |
| --- | --- | --- | --- | --- | --- |
| AIR | Name | Marks | Percentage | State | Cadre |
| Rank 1 | Shruti Sharma | 1105 | 54.57 | Uttar Pradesh | Uttar Pradesh |
| Rank 2 | Ankita Agarwal | 1050 | 51.85 | West Bengal | West Bengal |
| Rank 3 | Gamini Singla | 1045 | 51.60 | Chandigarh | Uttar Pradesh |
| Rank 4 | Aishwarya Verma | 1039 | 51.31 | Uttarakhand | Madhya Pradesh |
| Rank 5 | Utkarsh Dwivedi | 1036 | 51.16 | Uttar Pradesh | Uttar Pradesh |
| Rank 6 | Yaksh Chaudhary | 1033 | 51.01 | Uttar Pradesh | Rajasthan |
| Rank 7 | Samyak S. Jain | 1031 | 50.91 | Delhi | Rajasthan |
| Rank 8 | Ishita Rathi | 1030 | 50.86 | Delhi | AGMUT |
| Rank 9 | Preetam Kumar | 1030 | 50.86 | Rajasthan | Rajasthan |
| Rank 10 | Harkeerat Singh Randhawa | 1026 | 50.67 | Punjab | Not known |
| Rank 11 | Shubhkar Pratysh | 1024 | 50.57 | Delhi | AGMUT |
| Rank 12 | Yashrath Shekhar | 1022 | 50.47 | Uttar Pradesh | Rajasthan |
| Rank 13 | Priyamvada Ashok Mahaddalkar | 1019 | 50.32 | Maharashtra | Maharashtra |
| Rank 14 | Abhinav J. Jain | 1018 | 50.27 | Delhi | Uttar Pradesh |
| Rank 15 | C. Yaswanth Kumar Reddy | 1017 | 50.22 | Andhra Pradesh | Andhra Pradesh |
| Rank 16 | Anshu Priya | 1016 | 50.17 | Bihar | Rajasthan |
| Rank 17 | Mehak Jain | 1015 | 50.12 | Haryana | Gujarat |
| Rank 18 | Ravi Kumar Sihag | 1014 | 50.07 | Rajasthan | Madhya Pradesh |
| Rank 19 | Diksha Joshi | 1013 | 50.02 | Uttarakhand | Uttar Pradesh |
| Rank 20 | Arpit Chauhan | 1012 | 49.97 | Uttarakhand | Maharashtra |
List of Books followed by Shruti Sharma IAS
| | |
| --- | --- |
| Subject | Book Followed |
| Polity | Laxmikant, Bare Act |
| Science and Tech | Ayaz Sir Notes, 10th NCERT |
| History | For Ancient and MedievalRelied on self-made notes from various sourcesFine Arts11th NCERT, Themes NCERTsModern HistorySpectrum |
| Geography | Class 11th and 12th NCERTs |
| Economics | Zulfiqar Sir Notes |
| Environment Studies | Shankar Book |
| Current Affairs | Vision PT 365Last Year's PYQPIB NewsNewspaper |
| Other Resources | Analysis of Previous Year PapersSelf-made notes on National Parks and SanctuariesMajor Ancient Indian AuthorsBuddhism and JainismAnimals Under Species Recovery ProgramYou-Tube (Anurag Singh – IAS Knowledge Mantra) |
Shruti Sharma IAS – Subject-wise Notes Link
Shruti Sharma IAS Instagram Account
Shruti Sharma IAS is not very active on Instagram but she loves to share family pictures on this platform. Though she has posted very few most of them are lovely moments which she is enjoying with her family.
Shruti Sharma IAS LinkedIn Account
Shruti Sharma IAS is also not a regular user of LinkedIn as we can see that her bio on the platform is not updated which still says "a UPSC aspirant". Maybe when you are reading the article it will be updated, but at present it is not. But her LinkedIn profile reveals more information about her as she has worked as a part-time Legal Aptitude Faculty in Vivek IAS Academy where she is helping the students to clear the CLAT exam.
Also, she was a part-time writer, freelancing for Collegedunia for 3 months, from September 2021 to November 2021. One more important piece of information is revealed from her LinkedIn profile she has also completed B.A. LLB Honours from Punjab University from January 2012 to July 2017 and got a Law degree with 69.8% marks.
Shruti Sharma IAS Twitter Account
Shruti Sharma IAS loves to tweet as most of the information is shared by her on this platform. She writes regularly on this platform and even shared her notes for preparing for UPSC on this platform to help all those who are aspirants to clear UPSC exams.
Shruti Sharma IAS FAQs
Where can I get the personalised notes of Shruti Sharma?
We have posted the downloadable link for her notes in this article but if due for some reason the link is not working, you can check her Twitter account where she has shared the notes.
Where Shruti Sharma's IAS is currently posted?
After completing the UPSC exam with AIR 1 she got her home Cadre Uttar Pradesh as her posting.
Which institute did she prepare for the UPSC exam?
She joined the Jamia Millia Islamia Residential Coaching to prepare for CSE where she of one of the 23 aspirants who got a seal in the academy.