Are you looking for the royal front hand mehndi design ideas? Then look no further than this blog. We have added 60+ awesome royal front hand mehndi design pictures.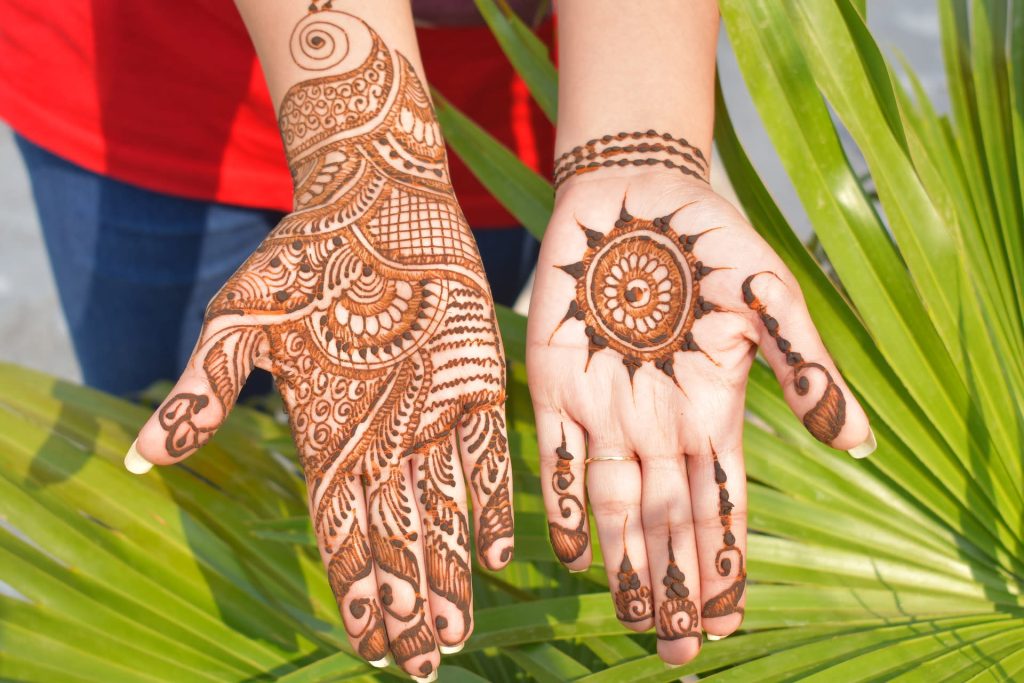 Have you ever been mesmerized by the vast variety of front hand simple mehndi designs and patterns that exist and continue to keep getting created? Or have you ever found it challenging to pick the stylish front hand mehndi design that compliments you perfectly? If your answer is yes, then you'll be glad to know that this article is just for you.
We have curated over 60+ trending royal front hand simple yet stylish mehndi designs just for you. Whether you prefer a more intricate and full-coverage design or a minimal floral look, you are guaranteed to find something that you'll love.
But before we delve into the designs, let us first learn a little bit more about what mehndi or henna is, where it comes from, what exactly is front hand mehndi, and how do you find the right front hand mehandi designer to do your mehndi on your special day.
Mehndi, Significance, and Types
Mehndi or Henna is a luscious green organic dye made from the leaves of the henna plant that is applied to the hands, feet, and other areas of the body for aesthetic, coloring, and healing purposes. This form of ancient body art dates back thousands of years and was particularly popular in certain parts of Asia, Africa, and the Middle-East.
What began as a traditional practice to attract positive spirits and bring upon prosperity has now evolved into much more than that. Today, mehndi is a form of art, expression of one's creativity, a practice having immense cultural and religious significance, and also a practice that heals one's mind, body, and soul.
Mehndi plays a huge role in Indian festivities and celebrations, especially weddings. An entire day's worth of rituals are planned for the bride and groom's family just to get their hands adorned with the most captivating mehndi designs. A tradition that will continue to play a major role for generations to come.
Now that we have a better understanding of what mehndi is, you might be wondering what are the different types and the names that are associated with them.
Based on the placement of mehndi designs or patterns, they can be broadly classified into front hand, back hand, and full hand mehndi design; based on the nature and color of the stain, they can be classified into natural henna, black henna, and red henna.
When it comes to designs and patterns, there is no definite number. Each region and time period can be credited to have their own unique style of mehndi designs and each of them equally beautiful and enchanting in their own way.
Speaking of beautiful and enchanting mehndi designs, nothing can beat the visual appeal and immaculate aesthetics of royal motifs and design patterns placed purposely and beautifully on the front hand. So now comes the question – what exactly is front hand mehndi?
What is Front Hand Mehndi?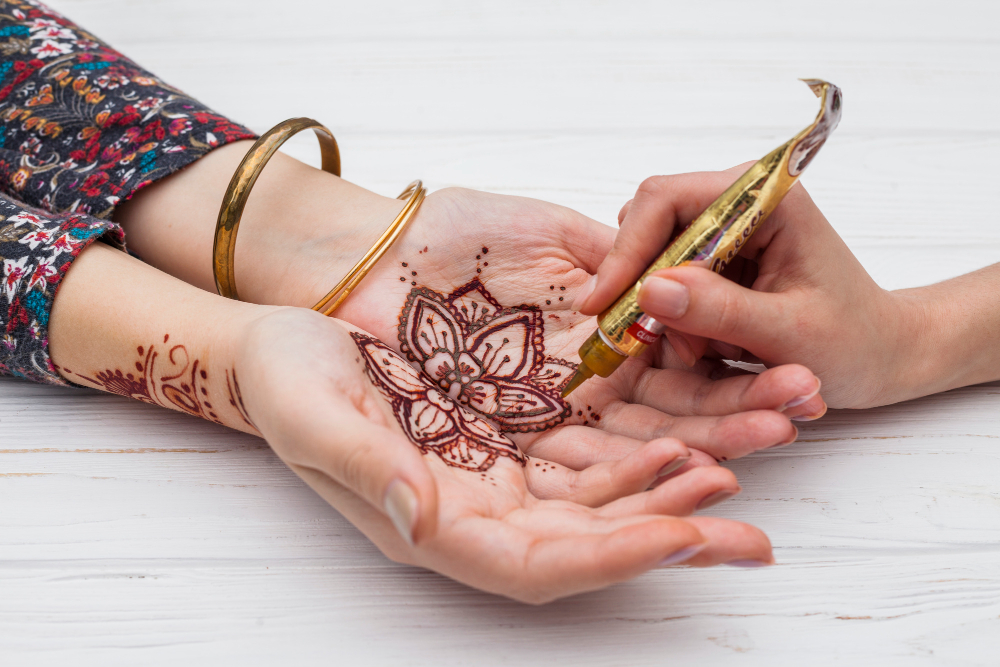 As the name suggests, mehndi patterns drawn on the palm of the hand are called front hand mehndi designs. They are generally the focal point of most mehndi designs and make the entire look.
It's extremely important for mehndi designs to create designs that are not only customizable but also enhance the beauty of one's hand. This involves studying and experimenting with lines, shapes, and patterns that not only fit in the palm of your hand but enhance the visual appeal of it.
So in this article, we will be exploring over 60 front hand mehndi designs that can be the perfect addition to your special day. Whether you're a guest attending a wedding, the birthday girl, a groom getting his bride's name tattooed with henna, or a gorgeous bride in search of the perfect design for your fairytale day, we've got you covered.
Since we've already learnt so much about mehndi, it only makes sense to answer this final question before we jump into the beautiful designs.
How Do You Choose the Right Mehndi Designer?
First things first, do your research. There's a few ways you can go about this, you can talk to your friends and family to identify mehndi designers that have done a good job in the past and call them over for a trial, you can search online through search engines or even social media sites, or you can take the old-school route and set off to find the best local designer that stays close to the venue in person.
Once you have your designer in mind, check out their design portfolio and the kind of patterns and concepts that are their signature style or a concept that they are well known for. This will help you get a better understanding of whether the designer's skills are what you're looking for. Once you familiarize yourself with their previous work and want to approach them, make sure you have your references ready.
It's always a good idea to show the designers what you're looking for rather than confusing them with vague descriptions. Once the first contact is established and both you and the mehndi designer are on the same page, talk about budget, logistics, and any other technical details to minimize liabilities as much as you can.
Once all the details are worked on, you can now request for a trial. A trial gives you an idea of the kind of materials being used in the mehndi, the application time, and also the skill and creativity of your mehndi designer, all things that can make or break your special day.
If you're happy with the end result of your trial, you can finalize your designer for your special day or keep looking until you find who you're looking for.
Let us now explore the different varieties of royal front hand mehndi designs that are sure to make any of your celebrations and festivities extra special.
60 Royal Front Hand Mehndi Designs (Simple & Modern)
1. Full front hand Mehndi design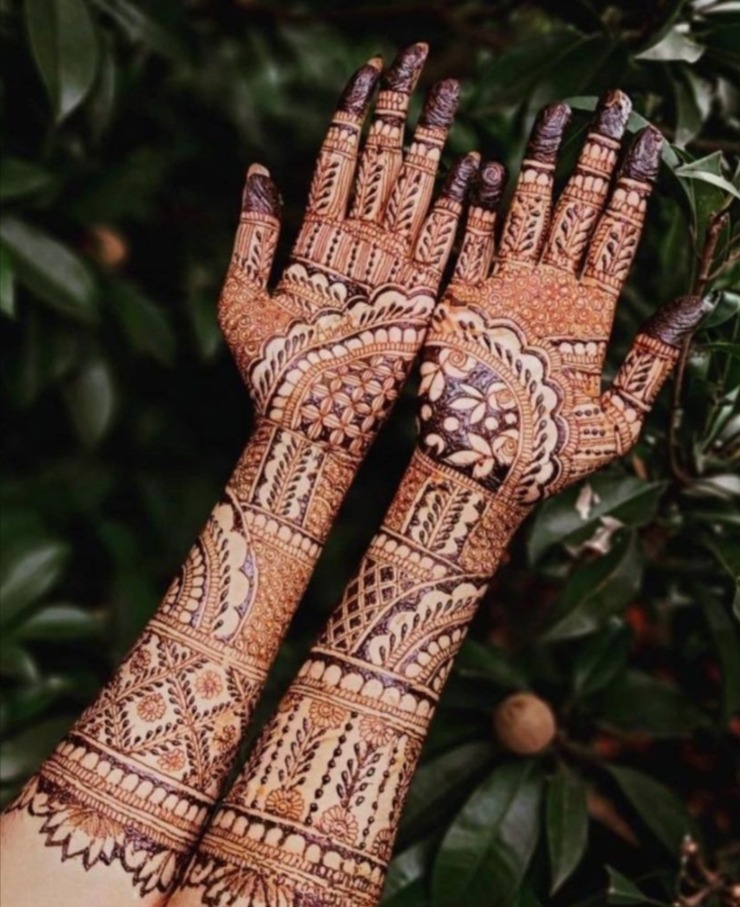 The exquisite and intricate elements of this royal front hand mehndi design are what sets it apart from the rest. The organic flow of different motifs and patterns from the Jaali element to the aesthetic placement of negative spaces in the palm make this a perfect choice for anyone seeking a trending, full coverage look!
2. Half Hand Royal Bridal Design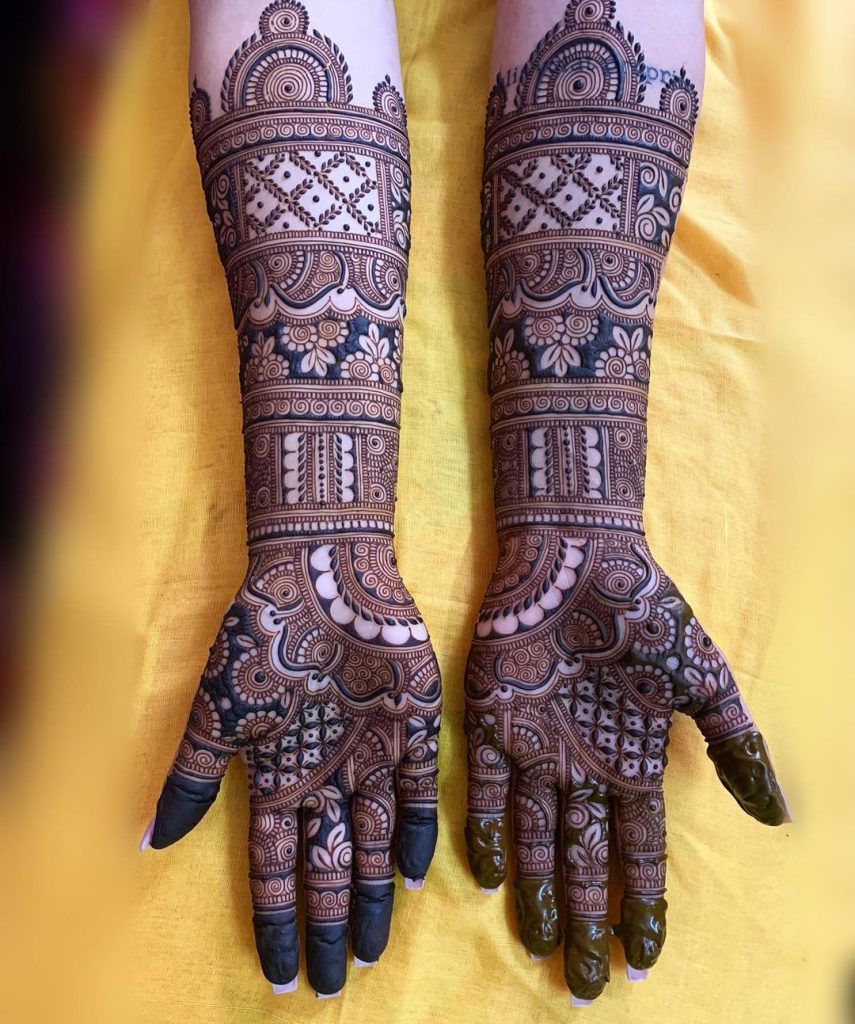 An intricate and elaborate design that ends near the elbow bend is referred to as a half hand design. The perfectly coordinated motifs and ornaments on both the hands truly elevate this pattern to a new level. The inverse coloring in the middle of the arm with the floral pattern is a fine touch indeed!
3. Negative Spaces and trending motifs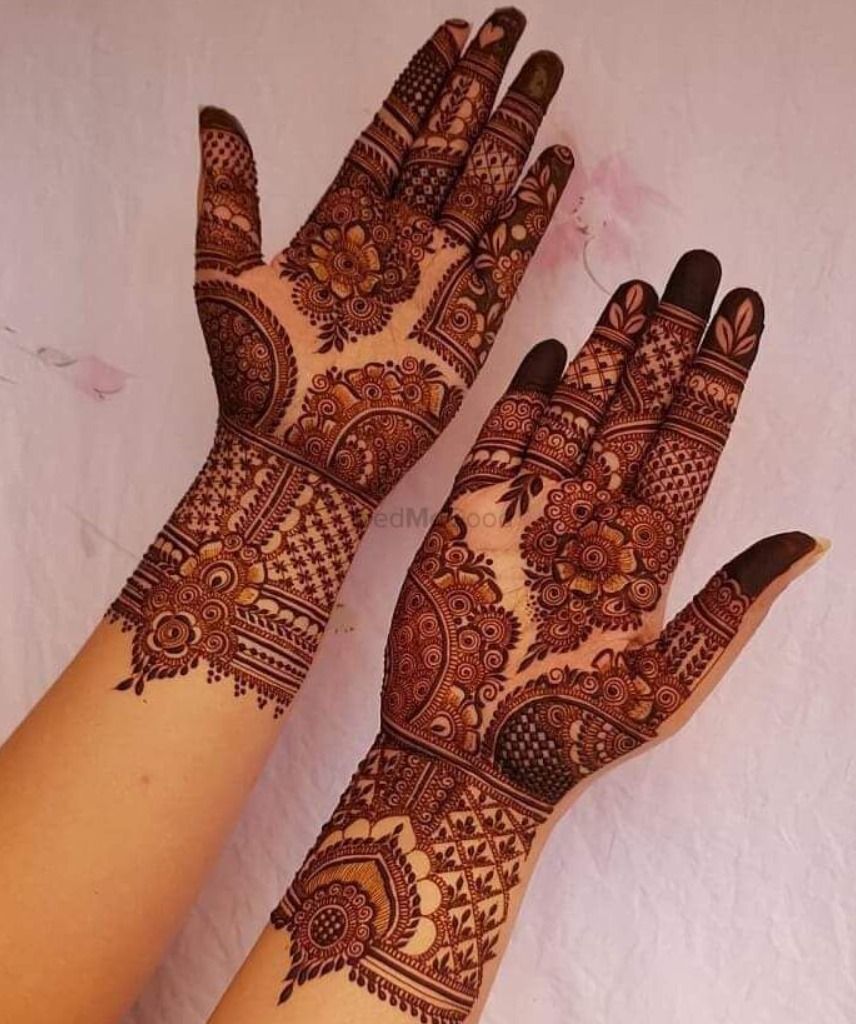 This design is a perfect blend of delicate paisley motifs, floral elements, and captivating symmetry. The negative spaces at the center of the design add to the elegance of this front hand mehndi look and optimize the appeal of the other elements.
4. Intricate Paisley Designs and Motifs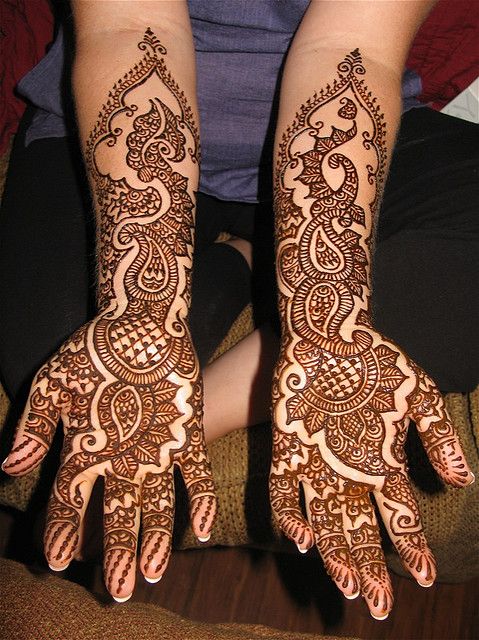 Paisley designs and patterns are truly a graceful touch to any front hand mehndi design. The frilly elements and the traditional cashew shapes make for a rather contemporary yet rooted look!
5. Telling Your Story in a Customized Design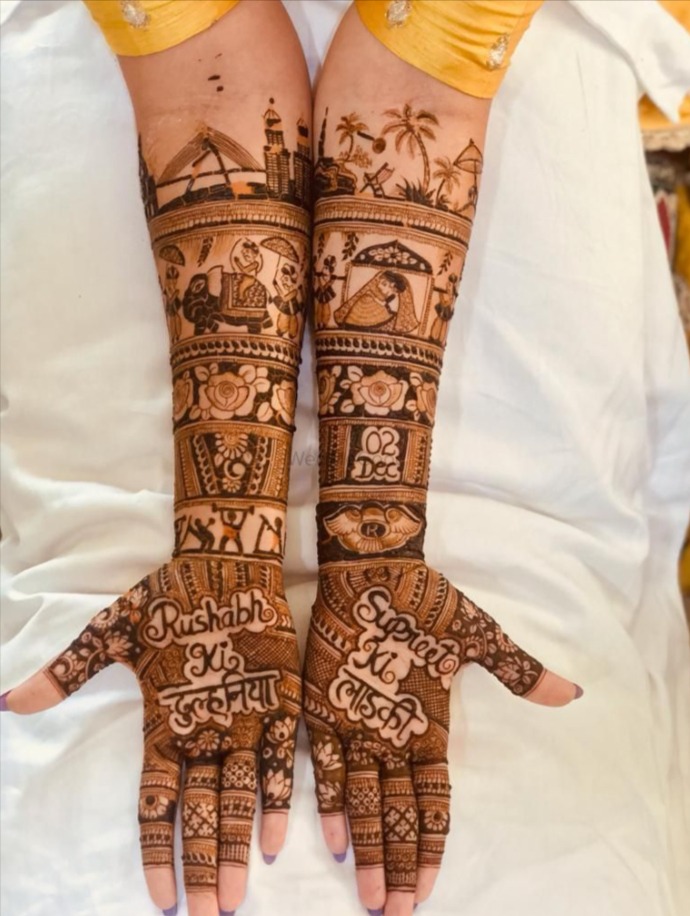 If you have a story that's one of a kind that calls for a fully customized front hand mehndi design that tells your story with every stroke, dot, and line of henna drawn on your hands. It is a perfect way to add your own unique touch while also keeping it traditional!
6. Peacock motifs and patterns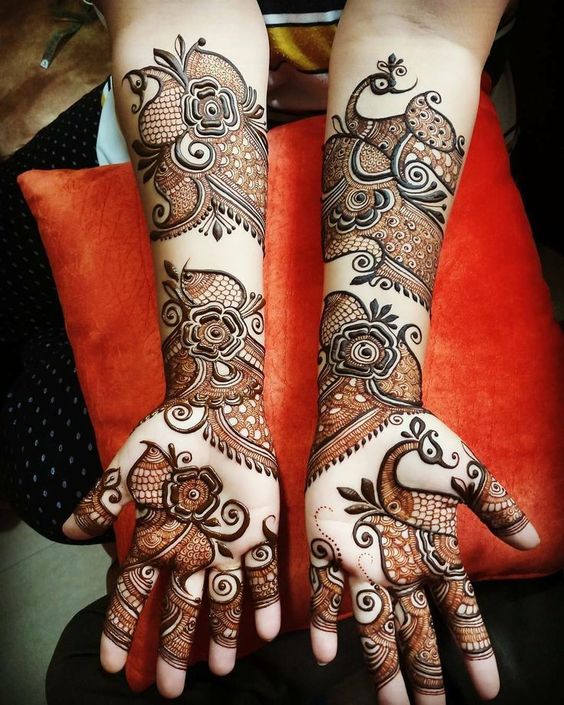 Peacock elements and ornate features are a great way to add a regal touch to your mehndi designs. They are graceful, traditional, and add a unique charm to your design that will surely make it special!
7. Coordinated patterns and motifs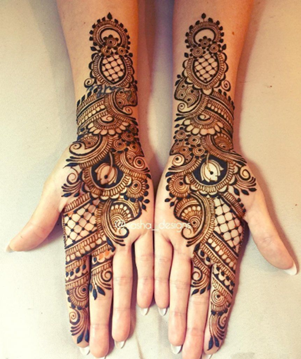 Mirroring the designs on your special day is a great trick to create an aesthetic symmetry running across your hands. Although one might need a rather experienced mehndi designer and a bit more time, it's completely worth it!
8. Elephant motifs and ornate features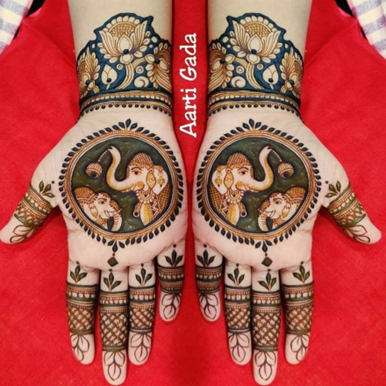 The wonderful use of negative spaces, brilliant inverse coloring on the palm of the hand, and the majestic elephants placed in the center truly elevate this simple yet royal design to the next level!
9. Graceful floral designs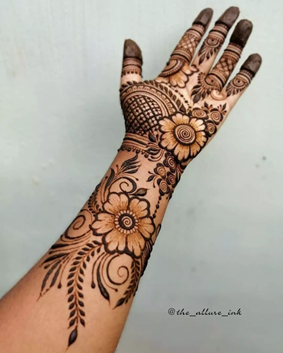 If you're looking for a design that is elaborate yet free-flowing, then this floral front hand mehndi design is perfect for you. The beautiful arrangement of flowers or different shapes and sizes add depth and movement to this design, making it simple yet absolutely attractive!
10. Lettered/worded elements and features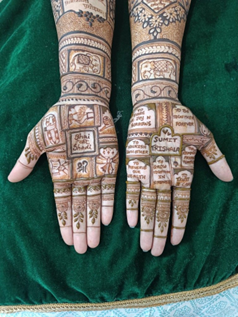 If you want your mehndi design to be a cut above the rest and tell your story in a unique and captivating way, then adding in personal lines, words, or even slogans that commemorate your special day is an idea that you can explore.
11. Parrot motifs and ornate features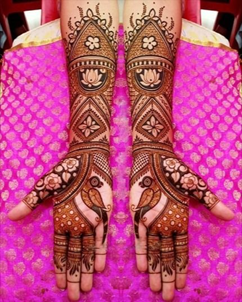 Parrots are regarded as ancient messengers of love and no better
way to incorporate a symbol of love on your special day than this. Graceful parrots at the center of this front hand mehndi design will surely turn heads!
12. Heavy bridal garden design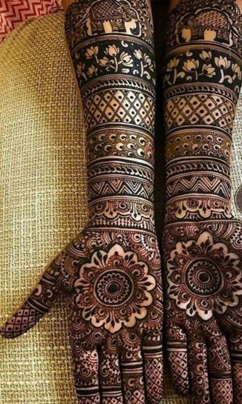 If you want to go all out on your wedding day and get beautifully elaborate and intricate design elements, then this look is perfect for you! From the mandalas to the geometric patterns, and the flowers to the negative spaces, this front hand mehndi design is nothing but royal.
13. Bold and quick designs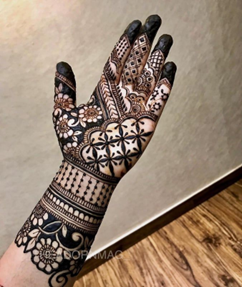 If you're in a rush but still want an aesthetic and elegant mehndi design gracing your hand, then this bold and minimal mehndi look is just what you're looking for. The bold lines and accents not only conserve time but add to the unique charm and beauty of this look!
14. Modern geometric patterns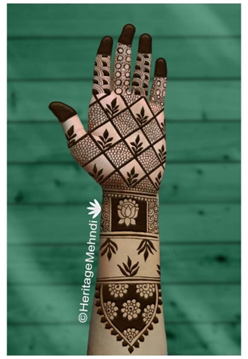 Trending elements and motifs exuding a modern yet elegant look is what comes to one's mind upon seeing this enchanting geometrical mehndi design. If you're in search of something modern, unique, and minimal, this front hand design is the perfect choice for you.
15. Wedding rituals-inspired designs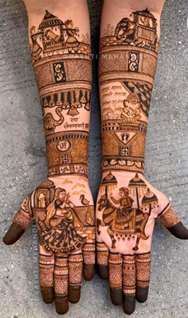 What better way to celebrate your culture and traditions than to get them tattooed on your hands for your special day. Wedding rituals are a fun addition to your mehndi designs that will surely make your wedding day more memorable.
16. Jaal/netted patterns and designs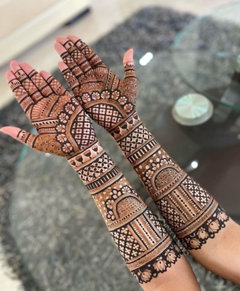 This intricate placement of joints and netted patterns throughout your arms create for one truly mesmerizing visual appeal. The 'Jaal' or net elements are simple and easy additions to your mehndi that will transform it instantly!
17. Rose patterns, motifs, and designs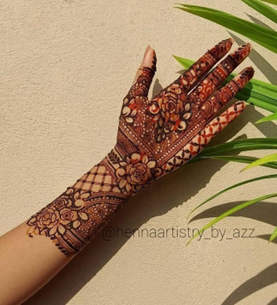 Roses are symbols of love, purity, royalty, and elegance. Adding them on to your mehndi designs or creating a look with them at the focal point is a great way to incorporate parts of yourself on your special day and truly celebrate being a woman!
18. Gradient negative spaces blended with floral patterns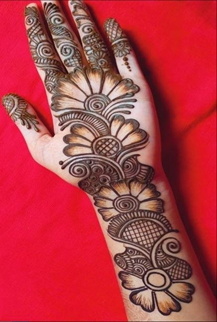 This front hand mehndi design is a perfect example of how a few gradients blended with florals and vines can create a new look in itself. They not only add depth and flair to the design but also help reduce the application time when done by an expert designer.
19. Fusion elements and patterns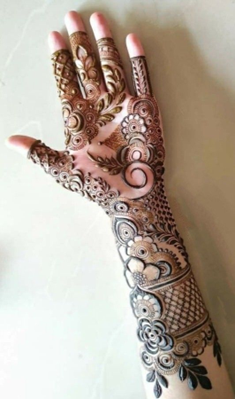 Mixing up things every now and then can be a refreshing way to incorporate everything you like into one single design. This fusion front hand mehndi design is a beautiful concoction of paisley patterns, negative spaces, Arabic style of henna, geometric patterns, and even floral elements and vines!
20. Celebrity inspired designs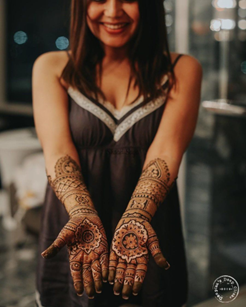 If you want to feel like a celebrity on your special day, then what better way to do this than take inspiration from them! You can ask your mehndi designer to either create an eye-catching replica of your favorite celebrity's mehndi look or take inspiration from it and create something that's more 'you'.
21. Floral vines and leaves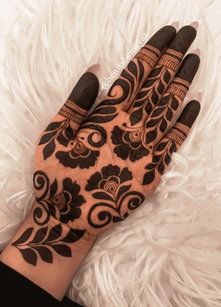 This front hand mehndi design made up entirely of floral elements and elegant tendrils and vines are for those seeking a more feminine and graceful look. The absence of any sharp edges, angles, and crisp elements add to the beauty and elegance of this design.
22. Festival designs and patterns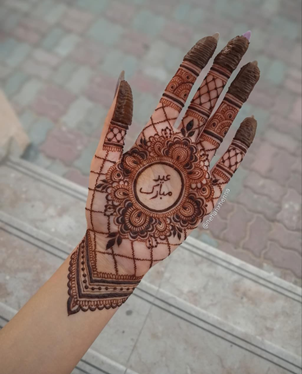 Festival patterns and designs are a perfect addition to your mehndi design to truly get into the spirit of your culture and embrace traditions in a modern and captivating way. Adding in symbols of your culture, subtle elements that reflect your heritage is a great way to feel rooted and connected with your loved one.
23. Mandalas and chakras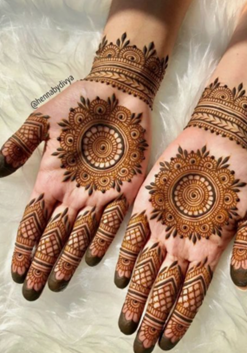 Mandalas and chakras are an elegant and captivating addition to any mehndi design. They create a circular symmetry and when coupled with other floral and intricate elements, do transform into one of the most beautiful designs!
24. Contemporary/ modern designs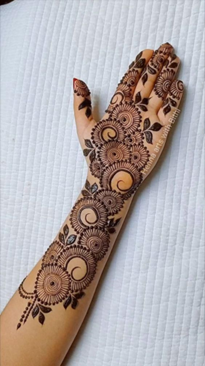 Contemporary designs are perfect for the modern woman. They are minimal, elegant, but feel equally royal. This front hand mehndi design makes use of florals, paisleys and negative spaces to create a beautiful design!
25. Folk culture and traditional designs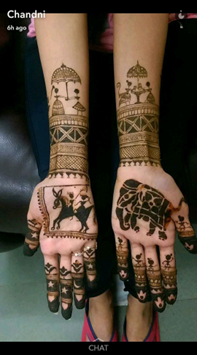 Folk mehndi designs incorporate bits and pieces of traditional folk art elements to weave a beautiful story of ancient cultures and traditions passed down several generations. This design has the signature folk style of art with certain modern geometric elements to create a true masterpiece.
26. Moroccan designs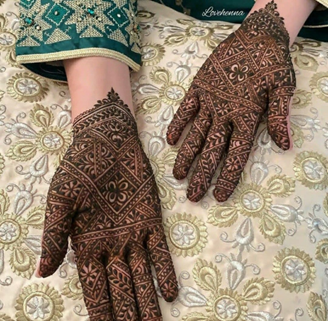 If you prefer something complex yet delicate, then this is perfect for you! Moroccan designs are characterized by fine lines and intricate patterns. Much like the front hand mehndi design here, one needs to marvel at their beauty from a rather close distance to truly appreciate the creativity and pain-staking precision that goes into making them!
27. African designs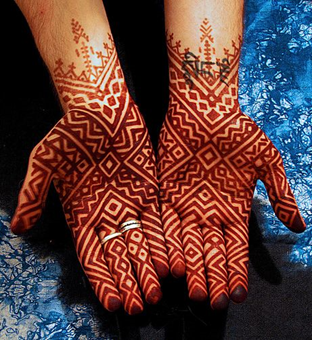 If you are in search of a structured yet minimal and graceful design, then this front hand mehndi design inspired from African henna tattoos is the ideal choice for you!
28. Mughalai designs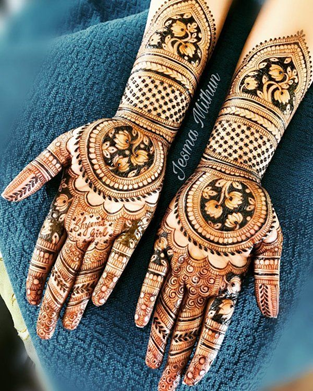 This Mughalai front hand mehndi design has all the elements that you'll ever need. From lotuses and Jaal patterns to negative spaces and architectural elements, this design is a true minimal beauty!
29. Pakistani designs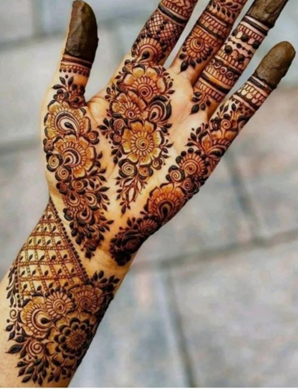 Delicate floral motifs paired with intricate tendrils and vine elements make this Pakistani front hand mehndi design a perfect choice for all occasions and festivities!
30. Jewelry/ornamental designs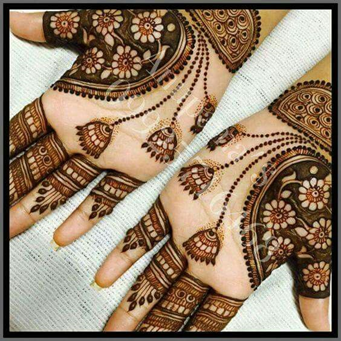 By incorporating jewelry motifs and ornamentation, one can add a royal and charming touch to any front hand mehndi design. The floral, geometric, and ornamental features of this design are perfect for any look and occasion.
31. Arabic patterns and designs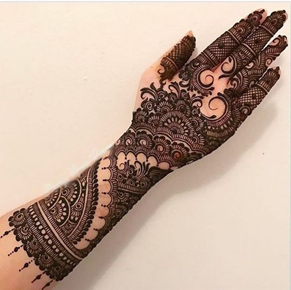 Arabic mehndi designs are some of the most popular designs that you'll come across. Intricate lines, floral motifs, and minimal negative spaces are their signature elements. They can be as elaborate or as minimal as you please.
32. Royal Indian patterns and designs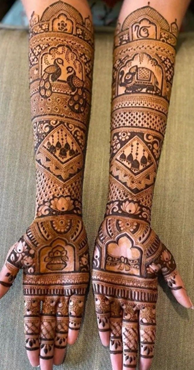 Domes, arches, elephant motifs, and intricate delicate elements make up this gorgeous royal front hand mehndi design! Perfect for a royal bride seeking something classic and timeless.
33. Portraits and picture elements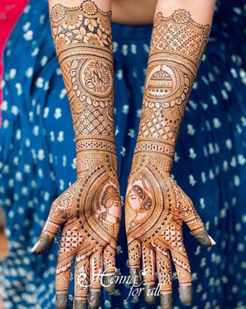 Do you want to incorporate a unique and personal element to your mehndi design? Then having portraits or picturesque motifs added to your design is the perfect choice for you. This front hand mehndi design showcasing customized portraits of the bride and groom exude royalty and elegance with every stroke.
34. Intricate and Complex designs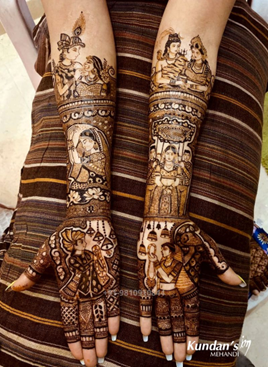 If you are someone who is detail oriented and marvels at the beauty of complex and intricate designs, then this royal front hand design should appeal to you. Comprising artistic lines, placements, and extreme craftsmanship, this mehndi design can only be created by a master at this craft.
35. Black henna patterns and elements
If you're looking to switch things up with your mehndi design, then try opting for a black henna instead. It creates a much more dramatic and mystical look!
36. Minimal and modern designs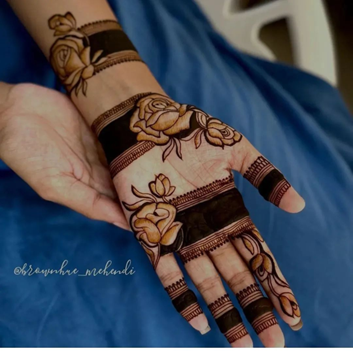 Looking for something chic and modern? Don't worry we have you covered. This minimal royal front hand mehndi look is effortlessly chic yet elegant at the same time with its optimized negative spaces, bold bands, and delicate floral motifs.
37. Swan motifs and ornate elements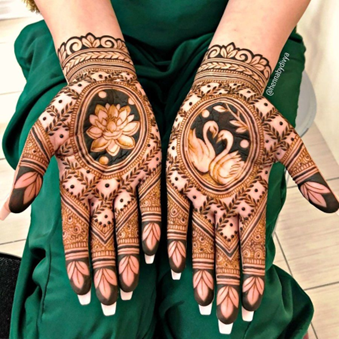 What can be more graceful than swans, right? Look at this beautiful mehndi design which has an elegant swan motif at the heart of its creation. Perfect blend of modern, feminine, and grace – perfect for all occasions!
38. Effortless yet beautiful designs and patterns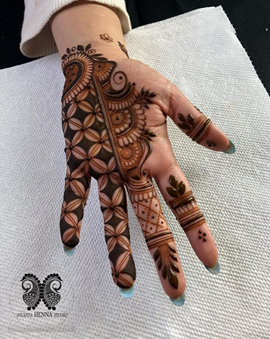 If you're running a little behind and do not have hours to sit through complicated and elaborate mehndi designs, then this effortless royal front hand mehndi design is the perfect choice for you. Geometrical patterns paired with Arabic motifs create the perfect harmony.
39. Architecture and landscape inspired designs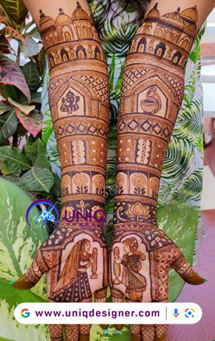 Are you looking for ways to incorporate landscapes and architecture into your designs? Then this front hand design is what you're in search of. Beautiful Mughal architectural elements, portraits, and nature come together to create this masterpiece!
40. Mix motifs and patterns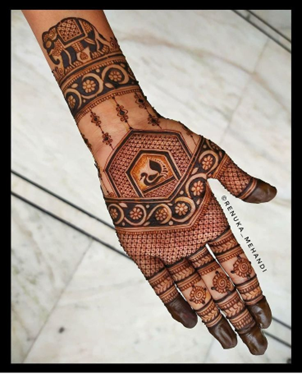 Are there elements from different designs that catch your eye? Well, mixing them up is a great choice for you. This royal front hand mehndi design has a mesmerizing concoction of elephant motifs, geometric patterns, florals, bird motifs, finger-focused designs, and even optimal negative spaces. Everything you like in a single design!
41. Palm-focused designs and patterns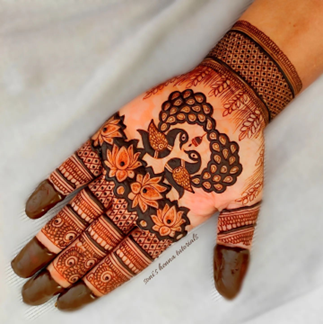 Do you want to draw attention to the palm of your hand and keep the rest of the design minimal? Then this front hand mehndi design with peacock and lotus motifs is your ideal choice!
42. Finger-focused designs and patterns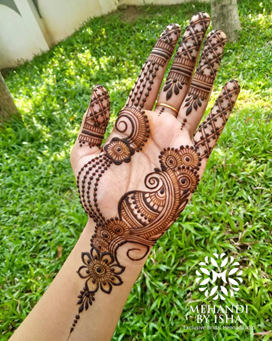 Getting this finger-focused mehndi design is a good way to mix elegant contemporary style with Arabic and Paisley patterns. If you're looking for something a little more modern and timeless, then this front hand design is just for you.
43. Bracelets/ring inspired designs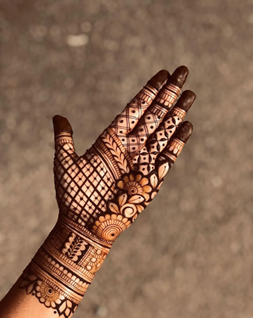 Do you wish to add a delicate and aesthetic ornamental touch with your mehndi? Then this beautiful bracelet design is what you're looking for. Geometrical patterns and floral motifs are used to create the illusion of the bracelet here!
44. Artistic/creative designs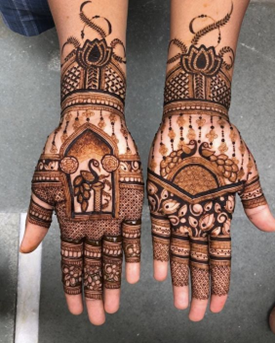 If you want to make your special day extra special, then a creative design just like this will do just that! Your mehndi designers artistic expertise will be truly tested when they need to blend in a variety of styles and patterns seamlessly and make it look like a visual masterpiece!
45. Occasion-specific simple designs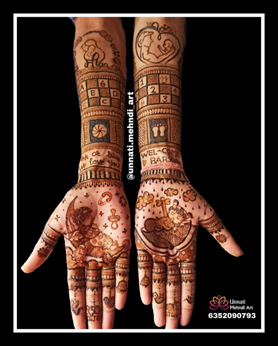 Every occasion calls for a different and equally unique mehndi design and this beautiful front hand mehndi look checks all our boxes. Let us marvel at how beautifully the concept of motherhood is conveyed here!
46. Traditional motifs with a modern touch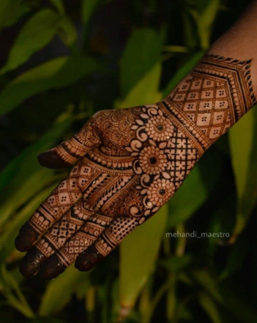 If you can't decide between traditional or modern, then this design is perfect for you! A traditional frame and base decorated with modern and geometrical motifs and patterns creates the perfect middle ground.
47. Colorful designs with sparkle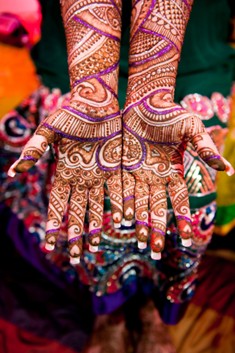 Add a splash of color into your mehndi designs with colored henna or glitter! This colorful front hand mehndi design will surely be the talk of your event and turn heads with every wave!
48. Lotus motifs and features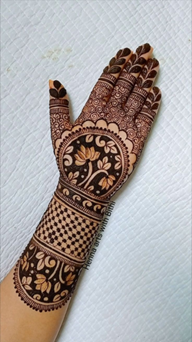 Lotuses are a great addition to any look. They exude elegance, grace, calmness, and beauty with every design and pattern. If you're in search of something that's eye-catching yet equally elegant, then this royal front hand mehndi design is the perfect choice for you!
49. Butterfly motifs and ornate features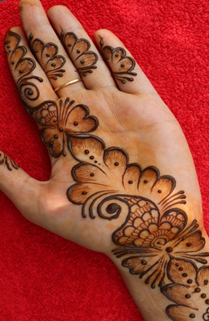 Do you want to add a fun and innocent addition to your mehndi design by taking away from the charm of a more traditional look? Then this Arabic-inspired front hand mehndi design is what you're looking for.
50. Fusion of mughal, animal, and floral elements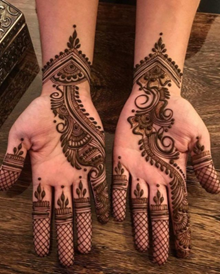 What do you get when you combine some of the best elements of gorgeous mehndi designs? A front hand mehndi looks fit for royalty! Take a look at this elegant yet majestic mehndi design that will surely add to your special day.
51. Japanese inspired designs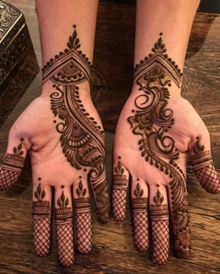 Japanese mehndi designs are a beautiful amalgamation of animal motifs, features, and intricately placed geometrical patterns. A wonderful choice if you're interested in exploring something new and unique!
52. Dainty and minimal floral designs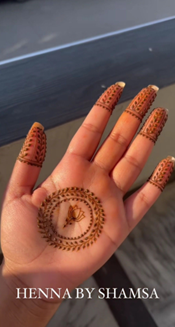 A quick and easy solution to all your Mehndi wanting hearts! A minimal yet beautiful design that will make you feel extra special with these traditional and elegant patterns. Nothing's better than the perfect blend of modernity and tradition.
53. Beautiful scenic elements and designs
This mehndi designer caught a beautiful moment and paid homage to it through his craft. If you're ever looking to explore new and unique designs, then this front hand scenic mehndi design is the ideal choice for you.
54. Concept-centric mehndi designs
Approaching any design with a concept in mind is always the best approach, especially when your concept is this eye-catching. A majestic young woman being the focal point takes this front hand mehndi design to the next level.
55. Fusion of geometric and paisley designs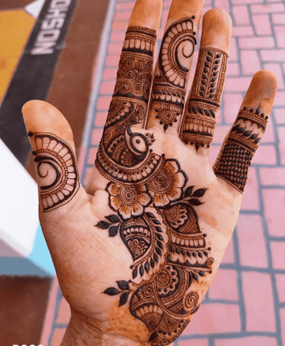 The sharpness from the geometric patterns and the elegance and delicate elements of paisleys will transform any boring mehndi look into a true show stopper.
56. Fusion of geometric and animal designs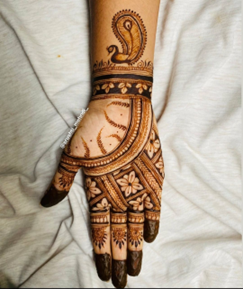 The raw, free spirit that comes with animal motifs, and the elegant structure and framework of geometrical patterns elevate this front hand mehndi design to the next level and make it a perfect addition to your special day.
57. Fusion of geometric and traditional designs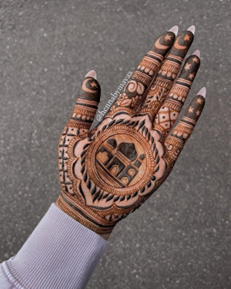 The geometrical patterns inspired from marvelous architecture and the traditional but simple motifs make this mehndi design fit for any occasion. A perfect accessory to all your outfits to transform your look!
58. Royal heart designs and patterns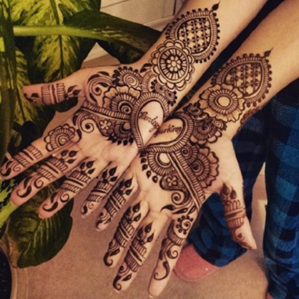 What better way to showcase love than by incorporating actual heart motifs into your mehndi design. This symmetrical front hand mehndi look with a minimal heart motif at the center of the design will surely turn heads.
59. Mirrored designs and patterns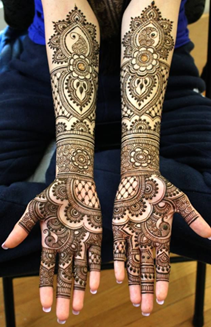 Perfect symmetry always captures the eye, especially when this symmetry is created with some of the most beautiful and intricate patterns you'll ever see! This mirrored front hand mehndi design is truly a work of art.
60. Semi-circle designs and patterns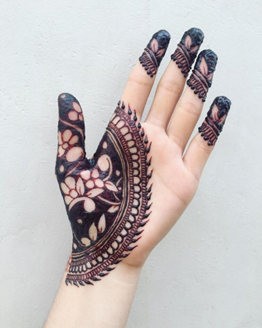 If you want to try something new and not your traditional circular patterns, then a semi-circle pattern could be a safe bet for you. This minimal mehndi look is a graceful addition to any of your festivities and events.
61. Marwari designs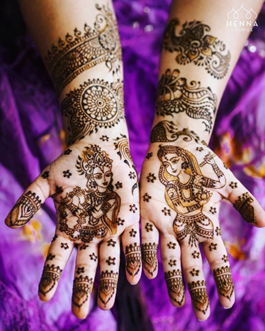 Marwari designs are feminine, traditional, and are made of floral and paisley patterns. This Radha-Krishna portrait mehndi design is a beautiful way to express oneself and celebrate any special day!
Conclusion
As we move away from ancient styles and patterns, it's exciting to explore the plethora of designs available today. From more minimal and timeless looks to elaborate and conceptual designs, this article has picked out 60+ royal front hand designs to appeal to your every taste.
Whether it's a wedding, a birthday, a baby shower, or just a day where you want to get a mehndi design, this list is guaranteed to come to your aid.
Mehndi is such a fun and creative process that connects us with our past and what better way to pay homage to this ancient tradition than to continue it in the future as well.
Explore, experiment, and embrace the artistry and creativity that goes into mehndi designs and continue wearing it for festivities and celebrations!
Royal Front Hand Mehndi Designs FAQs
What are some of the benefits of wearing mehndi on the hand?
Mehndi or Henna is known for its healing and spiritual properties. It is a powerful cooling agent and is a great way to heal the body and reduce excessive heat.
How long does mehndi last on your hands?
A lot of variables need to be taken into consideration to predict the exact number. But having said that, mehndi lasts about 3-4 days and fades with each passing day. The ingredients used, the natural heating properties of the individual, and the after-care methods all play a role.
How to care for your hand mehndi?
Ensure to apply a staining aid like coconut oil, eucalyptus oil, or any other agent that will increase the warmth of the area ensuring a darker stain. Once the henna is applied, treat it with sugar-lemon water or even coconut oil every couple of minutes to let the color develop. Ensure to leave the mehndi on for a minimum of 3-5 hours to give the dye time to leave a dark and beautiful stain.
What are the ingredients that go into making the henna dye?
Mehndi is made from the leaves of the henna plant and mixed with sugar and oils to produce a dark stain upon application. Make sure to check-in with your designer about the ingredients used to avoid any mishaps.
How long is the application process?
The application time varies from designer to designer and from one pattern to the other. But ideally, for a simple and minimal look it would take anywhere between 15 mins to 1 hour, and for more complex and intricate looks it might take 2-4 hours.
What age groups can wear mehndi on the hand?
Mehndi is ideally safe for all age groups regardless of whether it's your first time or not. But, in order to be on the safer side, make sure you do a patch test to rule out a possibility of an allergic reaction to either the actual henna itself or the ingredients being used.