Shower doors can do more than just serve the functional purpose of keeping water in your shower area; they can also play a significant role in defining the ambiance of your bathroom.
Often overlooked as a decorative element, shower doors hold immense potential to transform a bathroom into a warm, inviting, and homey space.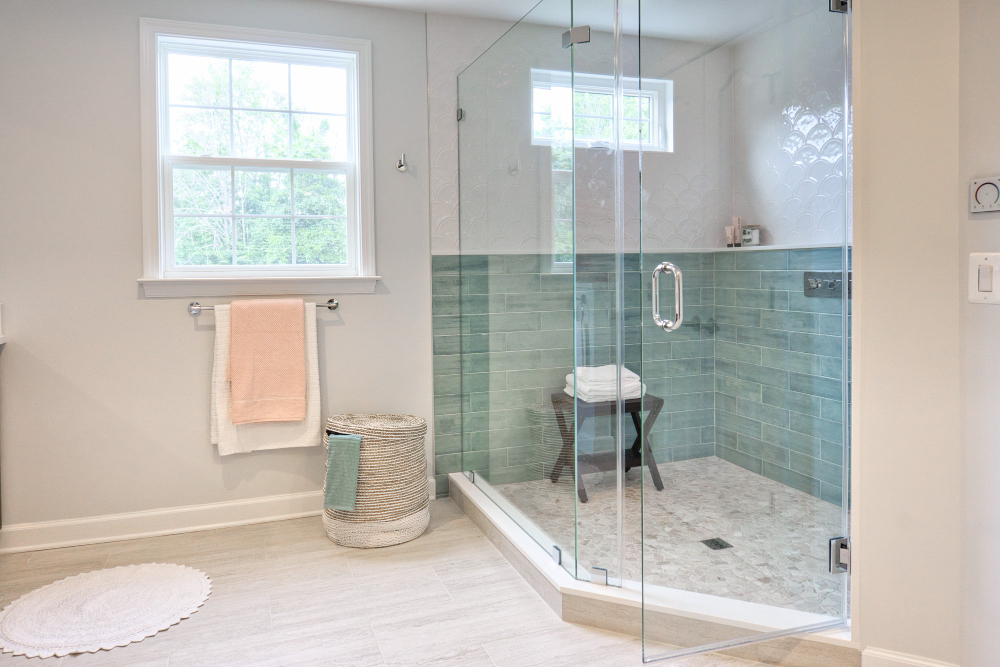 With some thoughtful tweaks and creative ideas, you can turn your bathroom into a cozy sanctuary to relax and unwind. Let's explore seven easy ways you can leverage shower doors to elevate the aesthetics of your bathroom and create a more homey feel.
1. Choose the Right Style
The first step to creating a homey atmosphere in your bathroom is selecting the right shower door style that complements your space. You can go for a classic framed design with metal frames and glass panels or opt for frameless doors with a sleek, modern look. Some options are more expensive than others, so make sure to consider your budget before you start searching.
Consider the overall aesthetics of your bathroom and choose a style that blends seamlessly with the existing decor. This is the first and arguably the most important step, as it sets the mood for the rest of the things you'll do to create a homey feel in your bathroom.
Frameless Shower Doors
Frameless shower doors are an excellent choice for bathrooms with a minimalist design. The lack of visible metal frames creates a seamless and sleek look that can open up the space and make it feel larger. Frameless doors also allow plenty of natural light into the shower area, which is essential for creating a bright and welcoming ambiance.
Framed Shower Doors
Framed doors are a timeless choice that can add a touch of elegance to any bathroom. The metal frames come in various finishes, including chrome, brushed nickel, and bronze, which you can match with other hardware and fixtures in your bathroom. Framed shower doors also offer more design flexibility as you can choose from different glass patterns and textures to customize the look according to your taste.
Semi-frameless Shower Doors
Semi-frameless shower doors offer the best of both worlds with a combination of metal frames and frameless glass panels. This design provides a subtle framing effect that can add depth and dimension to your bathroom. Semi-frameless shower doors work well in bathrooms with traditional or transitional decor styles.
Sliding Shower Doors
Sliding shower doors are an excellent option for smaller bathrooms as they don't require extra space for opening and closing. They come in framed, frameless, or semi-frameless designs and offer a sleek and efficient way to enclose your shower area. You can also customize sliding doors with different glass textures and finishes to match your bathroom decor.
2. Play with Glass
The type of glass you choose for your shower doors can significantly impact the overall look and feel of your bathroom. Clear glass is a popular choice as it allows natural light to pass through, making the space appear more open and inviting. However, you can also experiment with different glass options to add a touch of personality to your bathroom. Professionals can help you choose based on the look you're trying to achieve, so check them out here.
Frosted Glass
Frosted glass is an excellent choice for those who value privacy in their bathrooms without compromising style. The textured surface of the frosted glass diffuses light, creating a soft and subtle glow that adds warmth and coziness to the space.
Rain Glass
Another popular glass option is rain glass, which features a textured pattern that mimics the look of rainfall. This type of glass offers a unique and decorative touch to your shower doors while maintaining privacy.
Tinted Glass
For a more dramatic effect, consider tinted or colored glass for your shower doors. You can choose from shades like blue, green, or even black to add a bold and sophisticated look to your bathroom.
3. Add Greenery
Plants are an excellent way to bring life and nature into any room, including the bathroom. Adding some greenery near your shower doors instantly makes the space feel more inviting and homey. Consider low-maintenance plants like succulents or air plants that thrive in humid environments.
4. Match the Doors with Other Elements
To create a cohesive and harmonious look, matching your shower doors with other elements in your bathroom is crucial. This includes hardware like towel racks, faucet handles, and showerheads. Choosing finishes and styles that complement each other will tie the whole room together and make it feel more put together.
5. Incorporate Natural Materials
Natural materials like wood or stone can add warmth and texture to any space, and your bathroom is no exception. Consider incorporating these elements in the design of your shower doors, such as using a wooden frame or including a stone accent on the glass panel.
6. Use Soft Lighting
Lighting plays an essential role in setting the atmosphere of a room. In addition to natural light, consider incorporating soft and warm artificial lighting near your shower doors. This can make the space feel cozier and more relaxing, especially during evening showers.
7. Keep it Clean
Lastly, keeping your shower doors clean and free of streaks or water spots is crucial in maintaining a welcoming atmosphere in your bathroom. A quick wipe-down after each use can go a long way in preserving the beauty of your shower doors and ensuring they continue to enhance the overall homey feel of your bathroom.
Conclusion
In conclusion, shower doors are not just functional elements but also design features that can create a more homey ambiance in your bathroom. With these easy tips, you can transform your bathroom into a cozy sanctuary to relax and unwind after a long day.
So go ahead and choose the right shower door style, play with glass options, add some greenery, and incorporate natural materials to make your bathroom feel like a true home away from home.