Are you looking for the famous Sai Baba temples in Chennai? Here in this blog post, we have listed some of the must-visit Sai Baba temples in and around Chennai.
Sai Baba, the man of miracles, the saint of the 18th century, is said to have done a lot for the betterment of the poor and has inspired a massive range of followers across the globe, irrespective of their caste or creed. Chennai is no lesser a place for Sai devotees and all the temples are quite famous for their participation in social causes and for reaching out to people. Here's a must-visit list for those wishing to go seeking Sai's blessings.
List of 10 Famous Sai Baba Temples In and Around Chennai
1. Ambattur Sai Baba Temple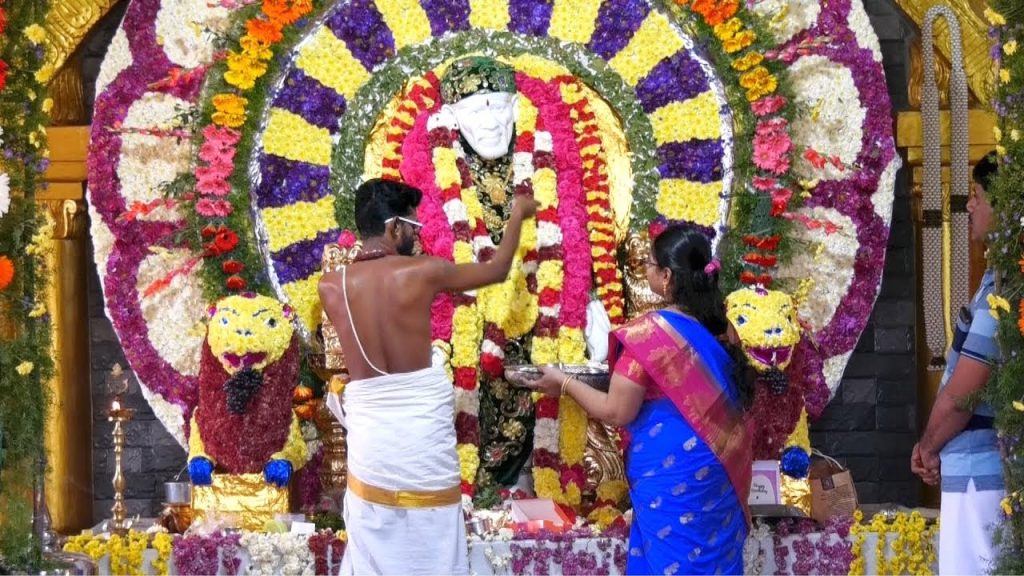 It is said that Sai appeared in person to Santhana Devakumar on Jan 2003 and instructed him to construct this temple here. It took 3 years to finish this temple. At the entrance, there is a 9 feet high idol of Baba in the standing position.
This is a very famous temple in Ambattur. Annadanam and Sai Pallakku are conducted every Thursday at this temple and most of the Sai baba devotees can be found here during this time. This temple is maintained by "Om Sri Saieswara Baktha Samajam".
Location: No. 5, Kamalapuram colony, Ambattur, Landmark: Rakki Theatre.
2. Chengalpet Sai Baba Temple
The temple was built here, on October 2007. The place for the temple was given by the Panchayat Union (5 grounds) which includes Vinayagar temple, Gurusthan, Children's park, Chavadi, Dwarakamayi and prayer hall (Capacity of 200 members).
Around 1000 members visit this temple on Thursdays. Annadanam is conducted regularly. Dhuni pooja is performed daily from 10.30 A.M to 11.30 A.M and 4.30 P.M to 5.30 P.M.
Location: Shri Shirdi Sai Baba Mandir, Akshaya Nagar, Lake Avenue,T.K.M. Road, Vallam.
3. Chitlapakkam Sai Baba Temple
The Statue of Sai Baba here is a beautiful 3ft Marble idol, along with Statue of Viboothi Baba. A Small 1ft Marble Utsav Murthy of Sai Baba has been placed on a Swing (Unjal) in front of the Baba's Sanctum & Unjal Seva is performed daily.
Sai Baba's Dhuni, Dwarakamai & Meditation hall are present in the temple & all the rituals are strictly followed as per Brahmin tradition.
Location: No. 83, 1st Main Rd, Venkataraman Nagar, MC Nagar, Hasthinapuram, Chitlapakkam.
4. Guduvanchery Sai Baba Temple
This Guduvanchery Sai Baba Temple in Chennai was built in 2006. Annadanam is organised here on every third Sunday of the month. Once in every two years, Rudra Homam is done. Apart from this, Vedam classes are taken here daily morning between 5:30 to 6:30.
19 Saligrams are kept and worshipped in this temple, which are believed to be 350 years old.
Scarcity of water in this area has always been severe. It is also believed that through Shirdi Sai Baba's blessings, after construction of this temple, there is no scarcity of water now.
Location: Someshwara Sai mandir, 92, Pillaiyar koil st, Viswanathapuram, Guduvanchery.
5. Injambakkam Sai Baba Temple
Saipuram Shirdi Sai Baba Temple is situated at Injambakkam, Chennai with its premises covering seven acres of land facing the sea, on the suburbs of Chennai. It is a quiet place suitable for meditation.
The main temple of Shri Shirdi Sai Baba is made of white marble in a hexagonal structure, towering over, at height of 100 ft. The Idol of Shri Sai Baba in his famous sitting posture is handcrafted in pure white marble.
The holy fire (Dhuni), from which Baba used to collect the ash (Udi), has been burning uninterruptedly since Baba's days and is kept burning at this Sai Baba temple. and It is also distributed to the devotees.
The temple complex also includes shrines of other gods, and are dedicated to Lord Shiva and Parvati, Durga Devi, Lord Hanuman, Lord Ram, Sita and Lakshman, Lord Venkateswara, Navagrahas, Lord Krishna and Radha, and Lord Muruga with his consorts Valli and Devyani.
Another important attraction here is the wish-fulfilling tree, devotees tie a turmeric dipped string around the tree on Thursdays and Fridays. It is believed that one's wishes are fulfilled by doing this.
Location: Shri Shirdi Sai Baba Spiritual & Charitable Trust, Saipuram, Injambakkam.
6. Kelambakkam Sai Baba temple
Shri. Aacharya Senthilkumar, is the one who constructed this Kelambakkam Sai Baba temple in Chennai and established Sathguru Saibaba Charitable Trust. One day, while he was performing the evening Aarthi, he was joined by Upasani Maharaj at the temple. And as the Aarthi progressed, Shri.Aarcharya SenthilKumar had a vision of Sai Baba tapping him and instructing him to start constructing a Sai Baba Temple on his own. Baba gave the right place to the right people at the right time (Kelambakkam), and it was constructed within months.
Location: No 9, Renugambal Nagar, Old Mahabalipuram road, Kelambakkam.
7. Kodambakkam Sai Baba Temple
This Kodambakkam Sai Baba Temple in Chennai or Prayer Hall has been setup at one of the S(s)hops owned by Sri.S.R.Munirathnam, a Sai Devotee from 1960's to help Sai Devotees in nearby area to worship & get the blessings of Sri Sai Baba.
Location: No.7, Vathiyar Thottam 1st street, Kodambakkam.
8. Shirdi Sai Baba Temple, Mylapore
Shirdi Sai Baba temple is located at Mylapore in Chennai. This temple was built to commemorate the memory of the saint. Sai Baba of Shirdi has devoted all over the world and is known to have performed many miracles. The unique attraction of the Sai Baba temple here is that it still holds aflame a part of the flame (Jyothi) in Shirdi that the Saint himself lighted.
Location: No 51A, Venkatesa Agraharam Street, Mylapore.
9. Sri Bhairava Sai Temple Trust
This temple of Sai Baba has been built on the Samadhi of Bhairavar (a dog), who stayed with the founder of this temple for 14 years. A 3.5ft Marble Statue of Sai Baba has been installed above the Samadhi of Bhairavar (the dog). A Bronze Statue of Sri Sai Baba in Bhiksha is also installed inside the temple premises.
Location: Door No.15-B, Plot #6 ,Bharat Nagar Main, Madipakkam.
May Sai bless you and your family in abundance!