Know more about TNEB online payment, TNEB registration for bill payment, TNEB online payment via UPIs and benefits of TNEB online bill payment now.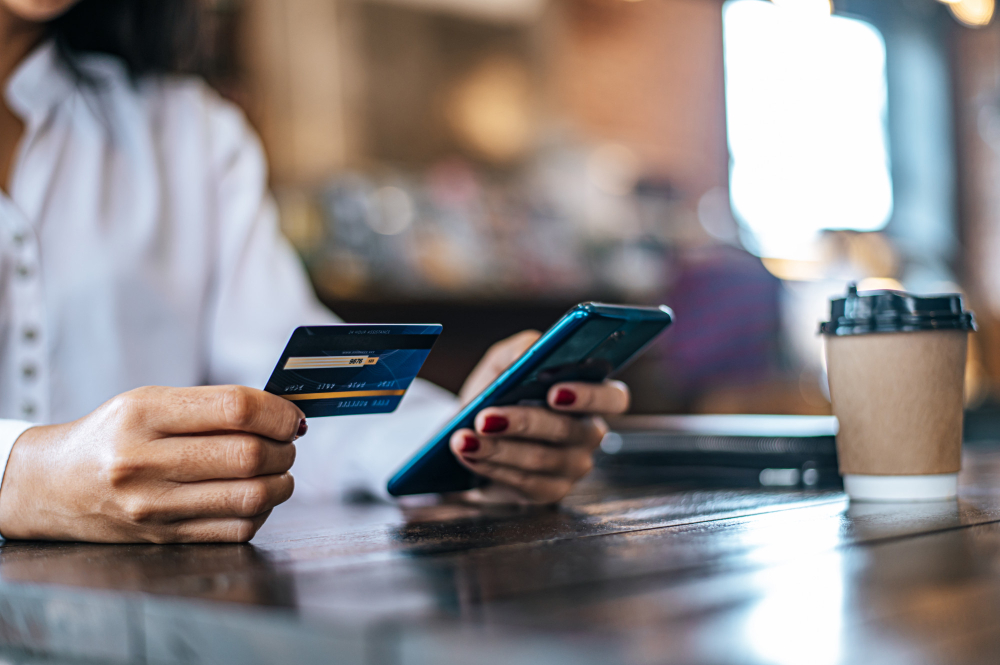 The Tamil Nadu Electricity Board, commonly known as TNEB, is responsible for generating, transmitting and distributing electricity in Tamil Nadu. With over 50 million customers, TNEB is one of the largest power utilities in India.
Are you tired of paying your TNEB bills in the long queue at the EB office? Are you looking to pay your TNEB bills online? You are looking in the right place. TNEB offers the convenience of paying electricity bills online through various digital payment methods and payment gateway.
Let's explore a step-by-step guide on how to log in & pay bills using TNEB online payment to pay your electricity bill online. So that you don't have to waste your time standing in the long queue to pay your EB bills.
Quick Summary

👉 Register / Create TNEB Account
👉 Log in & Pay TNEB Bills Online
👉 TANGEDO Quick Pay: A Convenient Way to Pay Electricity Bills
👉 Payment Methods Available in TNEB Portal
👉 Pay TNEB Online Payment Via UPI
👉 Making Seamless Payment with Online Payment Services
👉 Benefits of TNEB Online Payment
Let's Pay Your TNEB Bills Online
Here are the steps you must follow to pay your TNEB bills online.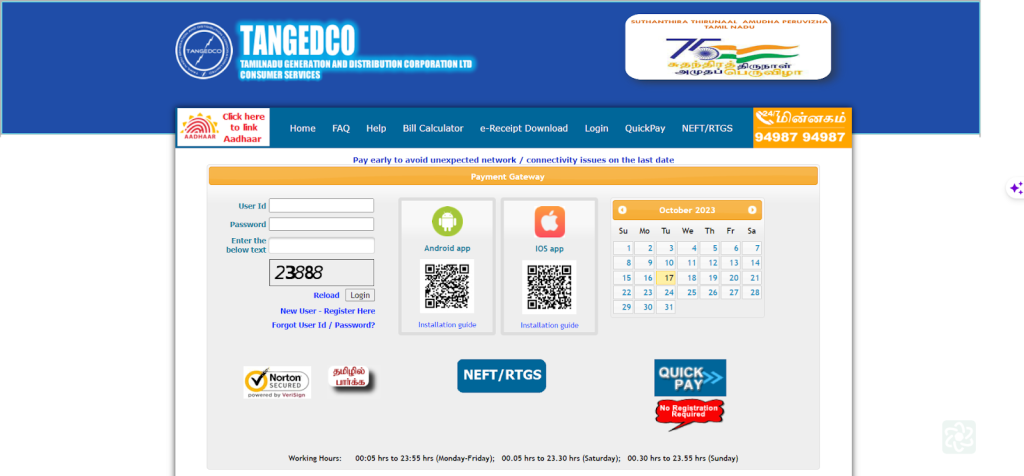 Registration
In order to pay your TNEB bills online, the first step is to register for an online account with TNEB. You can do this through TNEB's official website, www.tnebnet.org.
Click the "New user- register here" option to begin. You will need your consumer number and registered mobile number to sign up. (Check out FAQs to find your consumer number.)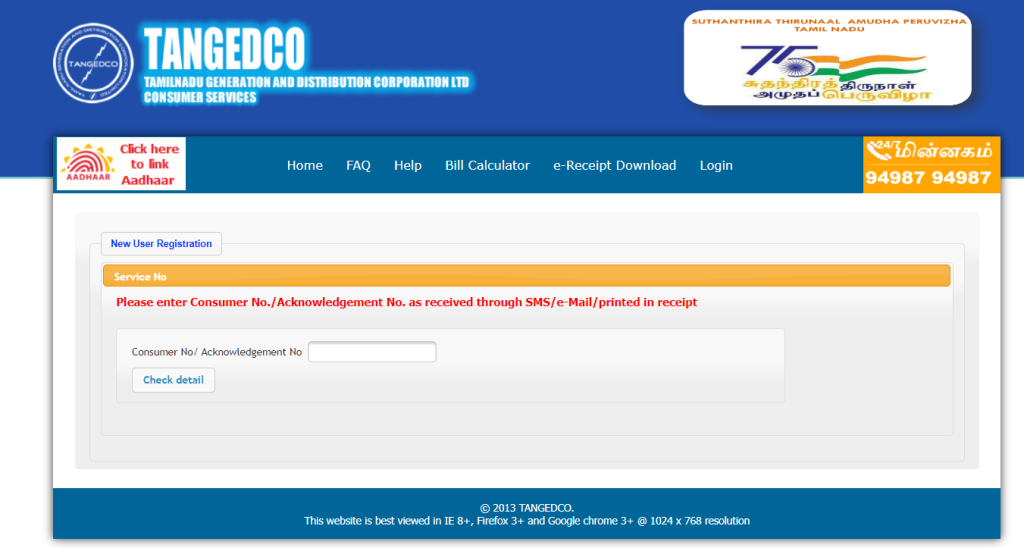 Once your consumer number is recognised, click the "confirm button" if your details are correct.

During registration, you will be asked to set up login credentials, like your name and address (your consumer number will be your user ID). Ensure to choose a strong password that cannot be easily guessed.

Once registration is completed, you will receive an activation link on your registered email address. Verify your account by clicking on the link. Now, you are ready to log in online and access TNEB services.

Step-by-Step Process to Login & Pay Bill
Once your account is registered with TANGEDOCO, you can now make online bill payments using the following steps:
Step1:
Log into the TNEB web portal.
Fill in your username & password.
Enter the captcha.
Step 2:
You can find your EB payment details in the table. Your bill amount, along with the due date, will be displayed on the page.
Step 3:
To make the payment, click the Pay Now button.
Now, you will be directed to the payment options page.
You will have the following payment options to make your payment:
Credit / Debit Card Payment
Net Banking Payment
Quick Pay
Payment Gateway
Step 4:
You will be redirected to the "payment successful" page once your payment is completed.
You can also download your bill by clicking the "bill details" icon on the top bar.
Select the payment details concerning the date and download the transaction details as PDF.
Through these steps, you can easily log in and pay bills online every time.
TANGEDO Quick Pay: A Convenient Way to Pay Electricity Bills
TANGEDCO (Tamil Nadu Generation and Distribution Corporation), the electricity distribution corporation of Tamil Nadu, has introduced an easy and hassle-free payment option called Quick Pay. This feature allows customers to pay their electricity bills instantly through UPI & other payment methods without having to create an online account.
The Quick Pay process is very simple. All you need is your consumer number and a valid digital payment method. Follow these simple steps to access "QuickPay" for seamless electricity bill payments online.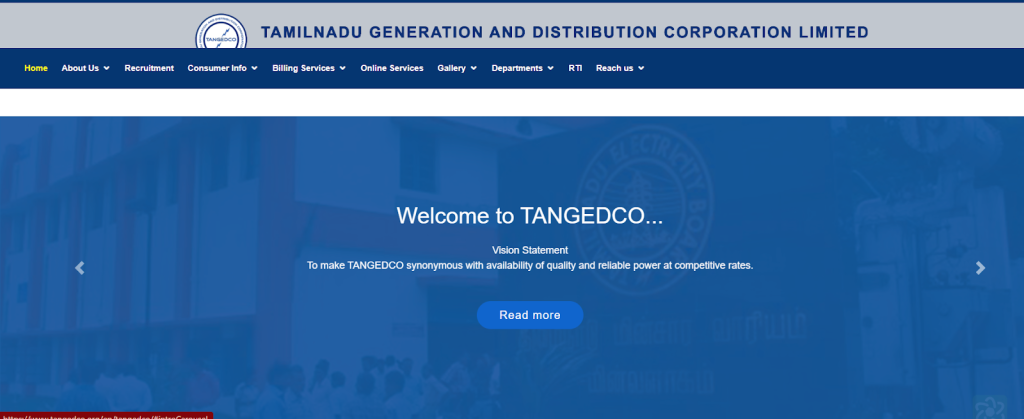 Step 1: Visit the TANGEDCO website.
Step 2: Click the 'Quick Pay' icon on the home screen.
Step 3: Check your EB bill details before making the payment.
Step 4: Click "Pay Bill" and select your payment mode of transaction.
Step 5: Complete your payment securely
With the help of Quick Pay, you can make all your electricity bill payments faster and more seamless.
TNEB Online Payment Options On the TNEB Portal
Here are the following payment methods that are supported by the TNEB portal.
The payment options listed on the page are
Net Banking: Select your bank from the drop-down list and enter the required login details to pay through Net Banking.
Debit/Credit Cards: Choose from a list of supported debit and credit cards like Visa, Mastercard, Rupay, etc. Enter the card number, expiration date and CVV details to pay online.
UPI: Scan the displayed QR code or enter the virtual payment address (VPA) to pay via popular UPI apps like Google Pay, PhonePe, etc.
NEFT/RTGS: Net banking transfers via NEFT/RTGS allow secure bill payments directly from bank accounts to TNEB. Next working day credit for NEFT, same day for RTGS.
Paying TNEB Bills Online Via UPI
Although UPI and payment gateways seem similar, there is a difference between UPI & payment gateway.
Here are some authorised payment platforms where you can make your TNEB payment online.
TNEB Online Payment Via Gpay
Paying your electricity bill has never been easier with Gpay. You can make secure online payments directly from your bank account with a few quick taps. Follow the instructions to pay your electricity bills online via Gpay.
Step 1: Open the Gpay app and select "Bill Payments" from the homepage.
Step 2: Choose "Electricity" as your biller and enter your consumer account number. Gpay will automatically fetch your latest bill details, including the due amount.
Step 3: Review the payment details for accuracy before confirming your selection.
Step 4: Once you've confirmed, you'll be prompted to authenticate the payment using your UPI PIN.
Step 5: Enter your UPI PIN when ready. Funds will be instantly deducted from your linked bank account and credited to TNEB.
The entire payment process takes under 2 minutes. You'll receive a confirmation notification and be able to view your payment receipt within the Gpay app for future reference.
Convenient features like saved biller details and payment notifications set Gpay apart from other online payment methods. You no longer have to worry about missing due dates or paying late fees.
As a leading digital wallet, Gpay is committed to providing a hassle-free experience for TNEB customers. So whether you're paying from home or on the go, Gpay makes it incredibly simple to handle all your TNEB bill payments in just a few taps.
TNEB Online Payment Via Phonepe
Tamil Nadu Electricity Board (TNEB) customers can now pay their bills from the comfort of their homes in just a few simple steps. All you need is the PhonePe app installed on your smartphone and your TNEB consumer account number.
Step 1: Open the PhonePe app and select "Recharge and Pay Bills" from the homepage.
Step 2: In the list of billers, choose "TNEB" and enter your consumer account number. The app will automatically fetch your latest bill details, including the due amount.
Step 3: You can then proceed to make the payment using any of the convenient options – UPI, debit or credit card. PhonePe uses industry-standard encryption technologies for added security, so you don't have to worry about your payment details.
Step 4: Once the payment is successful, you will receive an instant confirmation on the app. PhonePe also allows you to check your payment history and download payment receipts for your records with just a few taps.
Best of all, with AutoPay enabled on PhonePe, you no longer have to worry about missing TNEB bill due dates, as the amount will be auto-debited from your linked payment method.
With its simple interface and one-tap payment options, PhonePe has made settling TNEB bills incredibly hassle-free. No more waiting in long queues – you can pay from anywhere, anytime.
TNEB Online Payment Via Paytm
Paying electricity bills online through Paytm UPI has become a very popular and convenient option for TNEB customers in Tamil Nadu. With Paytm's unified payments interface (UPI), users can easily make TNEB bill payments from anywhere, anytime, without having to worry about due dates.
The process is quite simple. Users first need to download the Paytm app on their smartphone and register for a Paytm UPI account by linking their bank account.
Step 1: Search for "TNEB" under the bill payments section and enter your consumer number. This will fetch the latest bill amount directly from TNEB servers.
Step 2: Select "Paytm UPI" as the payment method. You will receive an instant request to approve the payment on your linked UPI app.
Step 3: Once approved, the funds are instantly deducted from your bank account, and a receipt of payment is generated. The whole process takes under a minute to complete.
Paytm does not charge any convenience fee for paying TNEB bills via UPI. You can also get rewards and cashback for making timely payments. You can track payment history and download invoices for records directly from within the Paytm app.
Did you know?

TNEB was India's first state electricity board to introduce online bill payments in 2004. They have been pioneers in digitising services for customers. Even today, over 50% of total bill collections for TNEB come through digital modes like net banking, cards, wallets and UPI.
Making Seamless Payment with Indian Payment Services
There are so many leading, award-winning payment gateways available in India. NTT DATA Payment Services one of the best service that offers a complete payment solution to advance all your online payment transitions.
Online payment gateways ensure maximum comfort, convenience, and safety for all your payments. They provide a robust encrypted payment gateway for your digital wallet & payments. This keeps your information security bulletproof and makes your transactions limitless and quicker.
Benefits of TNEB Online Payment
The following are the benefits of TNEB online payment.
01. Time-Saving
Digital payments help save a lot of time otherwise spent on physical bill collections. The entire process, from login to payment confirmation, takes only 5-7 minutes on average. Customers don't have to plan their schedules around due dates or office timings.
Bills can be paid even at midnight on the last date to avoid penalties. This offers flexibility and relieves stress over missing deadlines.
02. Security
TNEB uses secure payment gateways authorised by RBI, like Billdesk, to process all online transactions. Customers can pay through net banking, debit/credit cards, UPI and digital wallets confidently, knowing their financial data is encrypted.
03. Auto-debit facilities
Postpaid consumers can pay bills anytime after usage. Auto-debit facilities ensure bills are paid automatically on scheduled dates, without fail, every month. This is ideal for households to manage cash flows better.
04. Paperless Billing
Digital payments eliminate the need to print bills and coupons on paper. Customers receive invoices via email, which can be accessed from anywhere. Physical copies are not required to be carried or stored.
05. Rewards and Discounts
Many digital wallets offer cashback, rewards points, and discounts for TNEB bill payments. Users can maximise savings every time a bill is paid. Some wallets even provide credit period benefits for on-time payments.
06. Customer Support
For any payment issues, round-the-clock assistance is available via call centres, live chat, email, and social media. Problems get addressed swiftly without visiting offices. This ensures a smooth experience for users.
Pay Your Electricity Bills Online with TNEB
In conclusion, TNEB has made tremendous progress in digitising its services to provide customers with a seamless online experience. Gone are the days when people spent hours waiting in long queues to pay electricity bills.
With just a few clicks on your mobile phones or computers, you can pay TNEB dues conveniently from anywhere. The various digital payment options make the process simple. I hope you feel confident to log in & pay TNEB online payment.
TNEB Online Payment FAQs
How do I find my TNEB consumer number?
To find your TNEB consumer number, click the "Consno page" on the TANGEDCO website. You can fill in your regional and address details to find your consumer number there.
How do I know my TNEB regional code?
To find your TNEB regional code, click the "Know Your Region" page on the TANGEDCO website. There, you can see a table where you can find your regional code.
How do I pay the TNEB bill online in 2023?
Today, you can pay your TNEB bills seamlessly using the quick pay option in the TNEB portal. Click on the Quick Pay icon and enter your consumer number to get your bill details. Complete your bill payment by choosing your preferred payment method and download your receipt online.
What is the grace period for TNEB bill payments?
According to the latest regulation revisions, TNEB will keep track of the consumer's power usage for 30 days and provide a grace time of 20 days from the meter reading date for their consumers to pay the bill.
What is the penalty for late payment of TNEB?
If you fail to pay your bill by the due date, you will be charged a penalty of 1.5% of the total bill amount as a late fee. This is stated per clause 5(4) of the commission's Tamil Nadu electricity supply code, 2004.