Chennai is growing into a modern city, but it has not lost touch with its divine roots. Here are the 20 temples that people should visit in Chennai.
Religion, beliefs and spirituality have been a part of our society since times immemorial. When it comes to the diversified land of India, a Hindu temple in Chennai can be spotted at almost every nook and corner. But few tour agencies- comprising states like Kerala, Tamil Nadu, Karnataka, Andhra Pradesh and Pondicherry – showcase a unique aspect of religion and spirituality. Ancient Hindu temples in and around Chennai are the favourites of all religious-minded people, art lovers and history buffs.
Hindu Temples in Chennai – Inviting Spirituality
Most of these temples were built during the reign of Cholas, Chalukyas, Nayakas, Pallavas, Kakatiyas and Vijayanagar rulers. The true culture and rich heritage of Tamil Nadu are depicted beautifully in these ancient architectural wonders. There are countless temples dotted all over south India that are a must-visit after enjoying the natural diversity of peninsular India.
Background of Hindu Temples in Chennai
Being designed by different dynasties, each temple showcases a distinct architectural style. Dynasties like Pallavas and Cholas were known for their extraordinary sense of creative arts, and they designed these superb temples to promote Dravidian architecture.
Andhra Pradesh has temples like Tirupati Venkateswara and Kalahasteeswara that date back to pre-Christian times. Moreover, Alampur Bhrama temples are excellent examples of Chalukya art that was built in the 6th century.
Temples in Karnataka seem to be inspired by Hoysala architectural style. Elaborate sculptures, rock-cut cave temples and many such attractions in Karnataka have become synonymous with peace and serenity.
Tamil Nadu – the land of temples – is popular for its religious traditions. All the native people also follow these traditions strictly. Tamil rulers like Pallavas, Cholas and Pandyas are considered the greatest of temple builders.
Kerala temples are totally distinct in terms of structure, rituals, tradition, offerings, festivals and customs. Most of the temples here are connected with great epics like Ramayana and Mahabharata. The day starts with prayer and offerings in the temple.
Pondicherry is popular for its splendour of temples as well as churches. Almost all the ancient churches in Pondicherry are oriental examples of Gothic splendor.
This way, most of the south Indian temples are built in the Dravidian architectural style. One can notice beautiful and elaborate carvings and paintings on the walls and ceilings.
List of 20 Famous Hindu Temples In and Around Chennai, Tamil Nadu
1. Parthasarathy Temple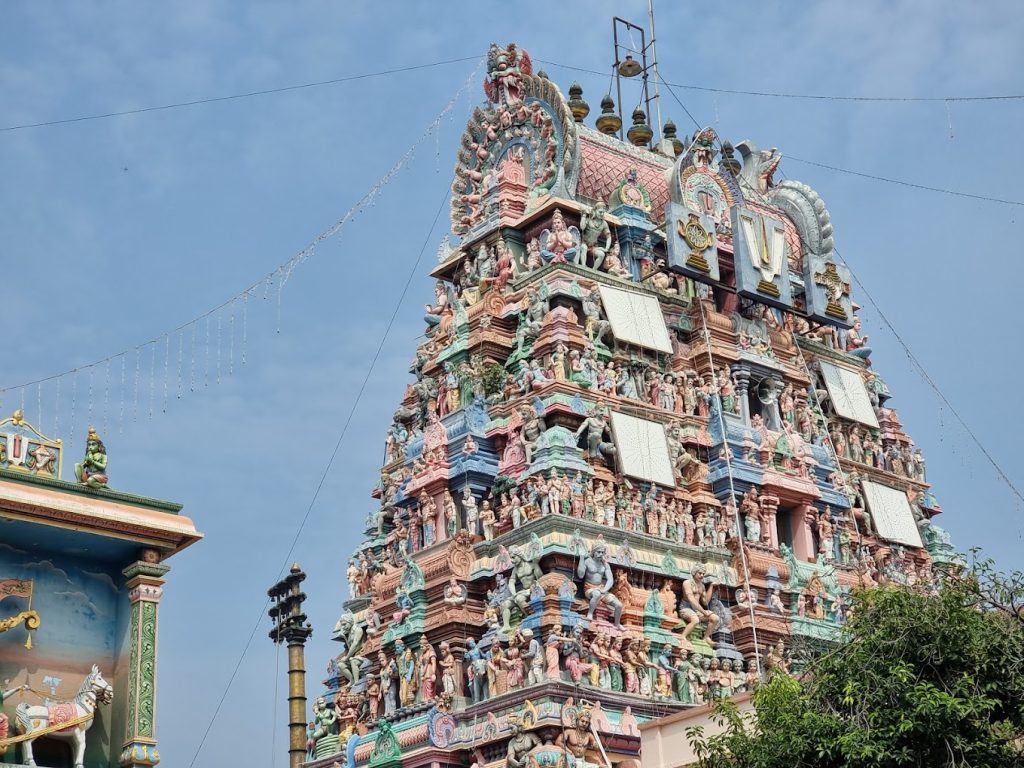 This temple is dedicated to Hindu God Krishna and is built in 8th century. The different avatars of Lord Vishnu, Krishna, Narasimha, Rama and Varaha are housed in this temple. If you are a Venkateswara devotee, you cannot miss this one!
There are separate entrances for the shrines of Lord Rama and Lord Narasimha. It is one of the oldest structures in Chennai and is located in Triplicane. Tourists visit this temple for its beautiful and intricate designs on the pillars.
Chennai: Parthasarathy Temple, Triplicane.
Website: www.parthasarathy.hrce.tn.gov.in
2. Kapaleeswarar Temple
Located in Mylapore and is believed to be built by Pallavas in the 7th century. Lord Shiva is worshipped in this temple as Arulmigu Kapleeshwar and Goddess Karpagambal – a form of Shiva's wife Parvati. The temple structure stands as an emblem of Dravidian architecture.
The gopuram stands tall in Mylapore streets with a tank on the west. In fact, it is believed that the term Mylapore came from a godly story where the Goddess worshiped Lord Shiva in the form of 'peacock' and in Tamil 'mayil' means peacock. The Arubathimooval festival celebrated during the Tamil month of Panguni is the most prominent festival in the temple.
3. Sri Vadapalani Andavar Temple
Built in 1890, this temple worships at the altar of Lord Muruga. The temple is dedicated to Lord Muruga, and the moolavar is in standing posture and resembles the Palani Muruga. It is one of the most frequented Murugan temples in Chennai and is also one of the preferred venues for marriages. Annaswami Nayakar, a devotee of Muruga was the founder of the temple.
It was renovated in the 1920s and made famous because of Sthanikar Shri V.A. Sundaraa Gurukkal, who took care from his early teens till his retirement in 1984. This temple is located in Vadapalani and is easily accessible by bus and share autos.
4. Ashtalakshmi Temple
Located around the shores of Elliot's Beach in Besant Nagar, this temple is dedicated to Goddess Lakshmi and her 8 forms. Her 8 forms are representation of the giver of 8 types of weatlh namely, offspring, success, prosperity, wealth, courage, bravery, food, and knowledge. The temple was built in 1974 and the goddesses are incarnated in different levels.
The first floor houses the shrines of Aadilakshmi, Dharyalakshmi and Dhaanyalakshmi. Goddess Mahalakshmi and Maha Vishnu are worshipped on level two. On the third floor, shrines of Santha Lakshmi, Vijaya Lakshmi and Gajalakshmi are worshipped. The fourth floor has a single form – Goddess Dhanalakshmi.
5. Mangadu Kamakshiamman Temple
The temple is located in Mangadu (Mango forests/Mangroves), a suburb of Chennai located between Kundrathur and Poonamalle. Kamakshi Amman is worshiped at this site. Epic says that Goddess Devi playfully closed the eyes of Lord Shiva and the entire world plunged into darkness. When she seeked pardon, she was directed by Lord to perform severe penance. Kamakshi Amman performed her penance here and that is how the temple came to existence. Lord Siva, satisfied with the devotion, appeared before her and married her. Hence it is believed that unmarried girls who worship Sri Kamakshi here get married as all obstacles that delay their marriage will be removed.
6. Kaligambal Temple
The temple was built in honour of Kalikambal (Kamakshi) and Kamateswarar. It was originally located near the sea, but later was relocated to its current site in 1640 in Thambu Chetty Street. History speculates that the temple was visited by Maratha Ruler Shivaji in 1667.
7. Adeeswar Temple
This temple is considered to be the 'Gateway to the South.' The temple lies near Redhill Lake on the Grand Trunk Road that connects the city to the Southern states of Tamil Nadu. The temple reflects roots of Jainism in Tamil Nadu and also the growth of its traditions. This temple is an important shrine among Indian Jains because of its history. The temple is devoted to the first Tirthankar Rishabhadev who is also known as Adi Bhagwan, Adeeswar, Adi Nath and Adi Jain. This ancient Jain temple is also known as the Kesarwadi Jain Temple by the locals with its inception, believed to be as far back as 1st century B.C.
8. Ayyappan Temple
The Mahalingapuram Ayyappan temple was the first Ayyappan temple in city. The temple was built in 1974 under the guidance of Sri.N.Subramanian Stapathy and is has become the ideal place of worship for several devotees. It came into existence because of many devotees proceeding to Sabarimala during the Mandalam-Makaravilakku seasons.
9. Thirumalai Thirupathi Devasthanam Temple
Located on the southern banks on Sri Swami Pushkaarini, the temple is dedicated to Lord Venkatachalapathi. Millions of devotees come every year to receive his blessings. It is believed that devotees who can't make it to Tirumala Tirupati temple, they visit this temple. The deity Lord Venketeshwara looks very similar to the one in Tirupathi. One major benefit for devotees is that devotees can stand very close to the deity and pray for few minutes.
10. Shirdi Sai Baba Temple
This temple was built in 1952 in memory of Sai Baba of Shirdi in Mylapore. This is considered to be one of the most trusted temples in all of India having been constructed by very prominent devotees of Sai Baba.
This is an ancient temple, located in Porur. It is believed that Lord Rama came in search of Sita and accidently found Lord Shiva's linga here through his guidance he learnt the direction of where Sita was taken. The temple is constructed on this place in 700 AD.
There are 9 temples built across the city and are considered as the Navagraha temples in Chennai. They are all dated back in centuries and has significant impoortance. The nine temples are representation of nine planets. They are –
Suryan Sthalam: Kolapakkam Agastheeswarar Temple
Chandran Sthalam: Somangalam Somanatheswarar Temple
Angarakan Sthalam: Poonamallee Vaitheeswaran Temple
Budhan Sthalam: Kovur Sundareswarar Temple
Guru Sthalam: Porur Ramanatheswarar Temple
Sukran Sthalam: Mangadu Velleeswarar Temple
Shani Sthalam: Pozhichalur Agastheeswarar Temple
Rahu Sthalam: Kundrathur Nageswarar Temple
Ketu Sthalam: Gerugambakkam Neelakantheswarar Temple
Sundareswarar Swamy Temple (Navagraha)
This temple dates back to the 7th century AD and was built by Kulathangha Cholan in Kovur. It was constructed to commemorate the legendary relationship between Goddess Kamakshi and Lord Shiva.
It is located in Kolapakkam near Vandaloor Zoo. This is yet another temple dedicated to the renowned relationship between Goddess Kamakshi and Lord Shiva.
Built by the descendants of Sekkizhaar and dedicated to Lord Rama, It is located in Kundrathur. Various festivals are celebrated here such as the Chithirai Brahmmotsavam, Sekkizhar Gurupuja and the Purattasi Niraimani Katch.
15. Madhya Kailash Temple
It is also known as Nadukkayilai, it is located along Sardar Patel Road in Adyar. Situated in the junction where the OMR starts branching from Sardar Patel Road. The temple has become famous for its unique idol of "Adhyantha Prabhu", which is part Ganapathy and part Anjaneya. The right side is Ganesh and the left Hanuman.
16. Marudeeswarar Temple
This temple is believed to have been built in the 11th century and dedicated to Lord Shiva in Thiruvanmiyur. Legend has it that Sage Valmiki (author of the Ramayana) visited this temple to worship Lord Shiva.
17. Ranganatha Temple
Located in Thiruneermalai, the temple observes Neervanna Perumal and Lord Ranganatha. It is located on a hill top and stands as one of more complex temples in all of India and the devotees have to climb 110 steps to reach the top.
18. Anjaneyaswami Temple
Located in Nanganallur and dedicated to Lord Hanuman, it has one of the largest idols in the whole country with the granite statue, standing 32 feet tall. It is considered a very distinguished idol as it was constructed from a single layer of rock.
19. Kandaswamy Temple
It was built in the 11th century AD and was abdicated by the ruling Chola leaders of the time. Located in Cheyyur, a charming village about 29 kilometres far from Madurantakam, the temple is noted for different figures posing in various ways, making it a living piece of art.
20. ISKCON temple
Founder A. C. Bhaktivedanta Swami Prabhupada, who carried the message of Lord Chaitanya to various parts of the world, wanted to have strong establishment in India. The Chennai temple was built completely on donations received from people in Chennai. The construction of the first phase of the project began on 17 March 2002. The temple has been built with the support of about 8,000 life patrons and contributions from devotees.