Are you looking for beautiful and modern Pakistani Arabic Mehndi designs that can make you feel your absolute best on your special day? Or are you hoping to come across a modern yet timeless mehndi design for a close-to-home celebration? Regardless of what you're looking for, we are positive that this list of 60+ Modern Arabic Pakistani designs is the ideal read for you!
Mehndi or Henna, has been a part of Asian culture for thousands of years. With each passing year, it has evolved, transformed, and been reincorporated into our lives in different ways to ensure its sustenance.
Initially, Mehndi was worn to ward off negative energy and bring the wearer positive energy, luck, and prosperity. It was also used for its cooling and medicinal properties to treat skin ailments, headaches, fever, and so much more.
Today, mehndi is a big part of our festivities and celebrations, with an entire day's worth of rituals and customs dedicated to the art of creating, applying, and flaunting our mehndi designs. From blushing brides searching for something modern and different to young children experiencing mehndi for the first time, everyone is bound to find something that catches their eye on this list.
From minimal and modern to something a little more on the traditional fusion style, we have curated more than 60 Pakistani Arabic mehndi designs that elevate your special day to the next level.
But before we dive into this exciting list, let us learn about what Pakistani Arabic mehndi is and whether it's what you've been searching for all along!
What are Pakistani Arabic Mehndi designs?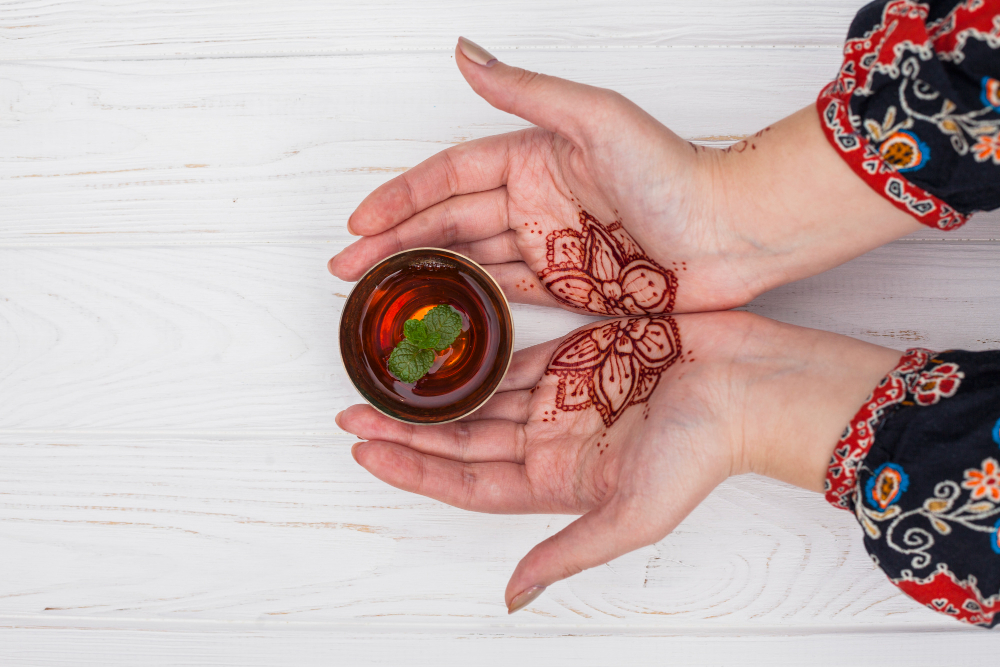 Mehndi or henna is believed to have originated in Ancient Middle East and the Indian Subcontinent around the 4th century and has since been a popular addition to cultural events and celebrations.
There are different styles of mehndi designs popular worldwide but Indian, Pakistani, and Arabic are the three most popular and commonly sought-after design styles. Each of them has its own unique characteristic elements but they also have elements that overlap with other styles making you appreciate what a true global cultural exchange looks like!
There are four options for this:
Pakistani-Arabic mehndi designs are a fusion of the two design styles that seamlessly blend together different elements to create one cohesive and jaw-dropping look.
Pakistani designs are characterised by intricate floral patterns that are almost woven together with elaborate and highly captivating geometric motifs and elements making it a perfect choice for some in search of a more classic and timeless design.
On the other hand, Arabic designs have more flow associated with them and have minimal use of structured or geometrical elements, making them extraordinarily beginner-friendly and less time-consuming.
The fusion of the above two designs results in the Modern Pakistani Arabic Mehndi design!
Now that we have a better understanding of the basics of this style of mehndi, let us explore the different styles and patterns you can wear on your special day.
List of 60+ Simple Pakistani Arabic Mehndi Design Ideas
1. Blooming Roses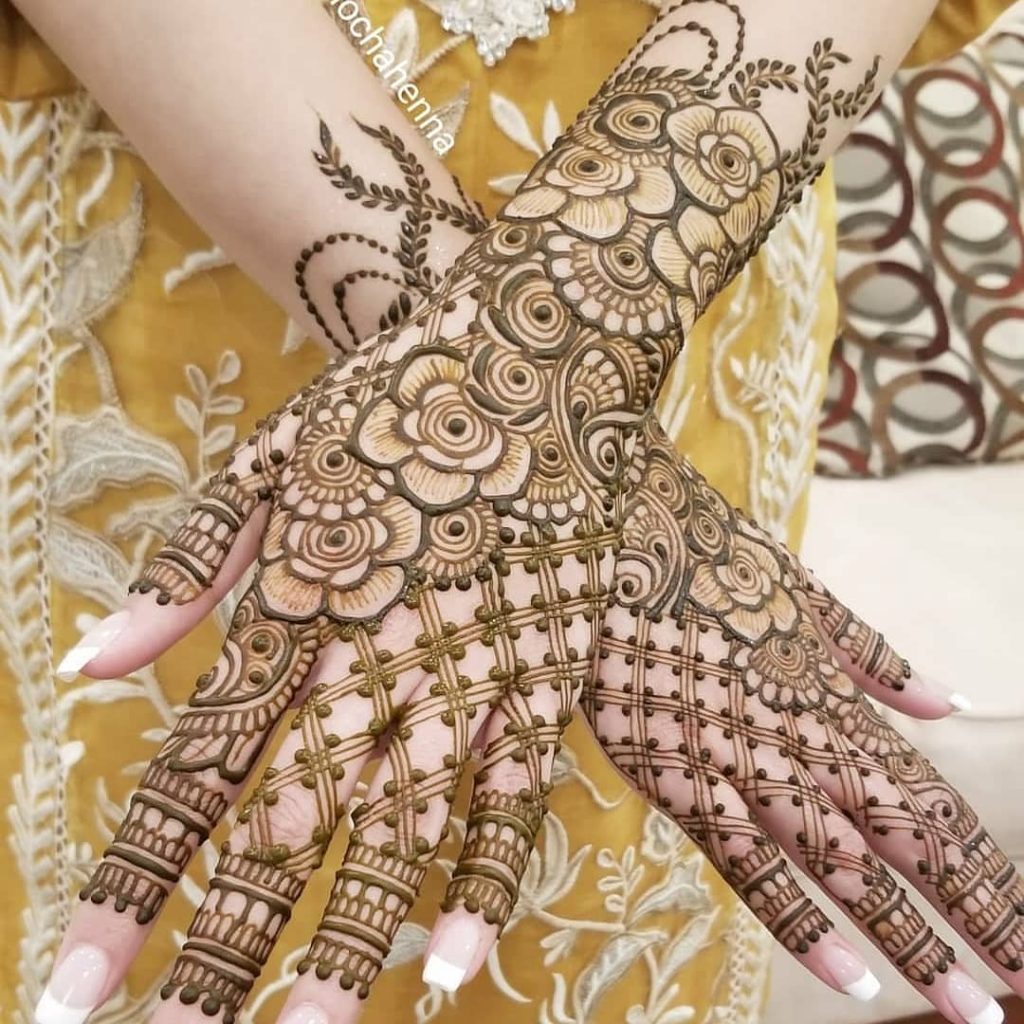 Roses are always a great choice if you're ever confused about what design to go with. They're elegant and beautiful and add a touch of flair to your mehndi design!
2. Enchanting Lotus
Pakistani Arabic designs are known for their extraordinary sense of elegance and royalty, and this Lotus motif design is all that and more! The delicate lotus blossoms paired with Arabic patterns and elements create a truly mesmerizing mehndi design fit for all occasions and festivities.
3. Sunflower Delight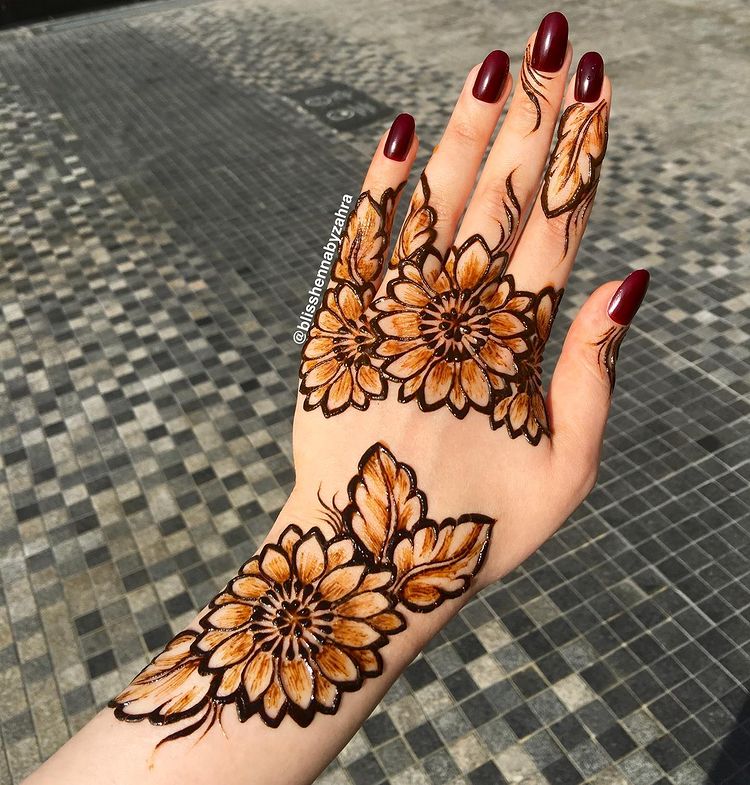 What can be brighter and more cheerful than including sunflowers in your design? This modern Pakistani Arabic mehndi design has everything needed to make it the talk of an event. The bold sunflower motifs and delicate leaf patterns create a beautiful harmony of something new and fresh, making it the perfect choice for someone seeking something that's a little more on the modern side!
4. Peacock Feathers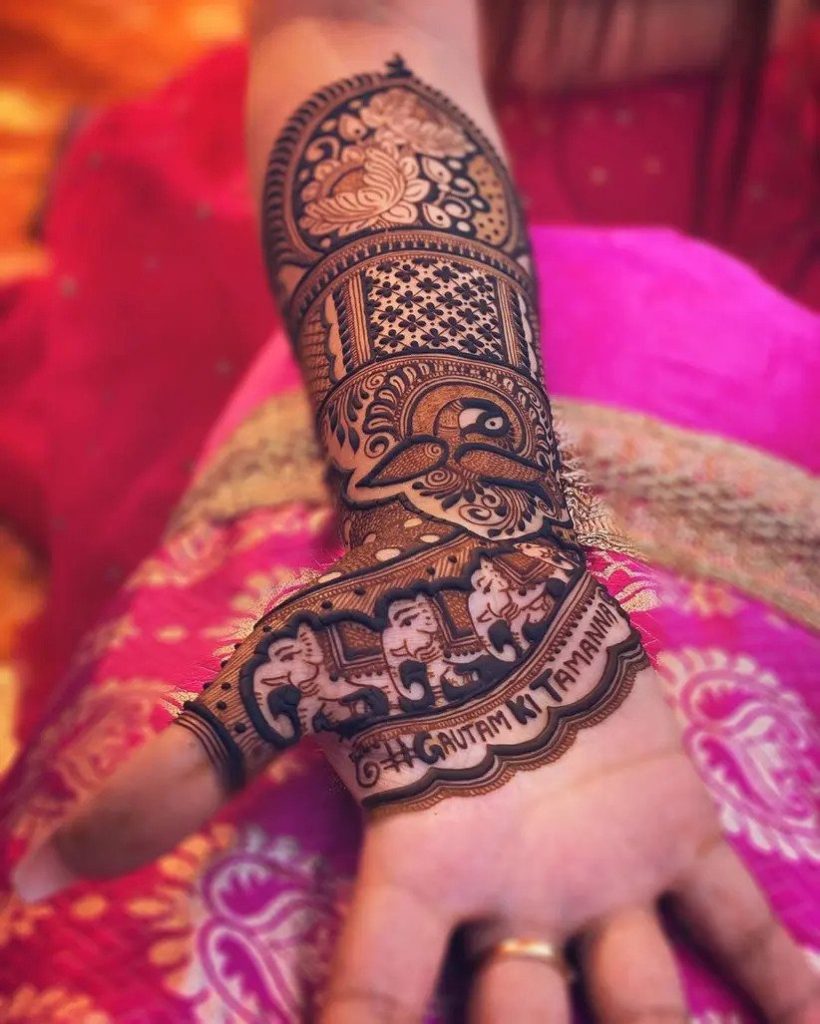 Peacocks are known for exuding royalty and majesty with every part of their body and their feathers are what catches our eye first. This unique Pakistani Arabic Mehndi design is created around the concept of using peacock feathers as the main design element and integrating that with the more popular Arabic styles and patterns.
5. Intricate Vines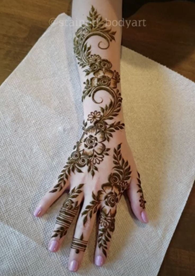 Are you looking for something that looks and feels more elaborate but is actually less time-consuming? Then this intricately created Vine pattern is what you're looking for. This modern Arabic Pakistani design is the perfect choice for someone who wants a full and elaborate look in a fraction of the time.
6. Paisley Elegance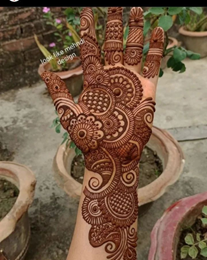 You can never go wrong with paisley patterns and motifs! If you want a more simple yet vibrant look with paisleys, then you can explore this Arabic paisley-infused Pakistani mehndi design that is bound to leave you feeling extra special for your big day.
7. Mystical Sufi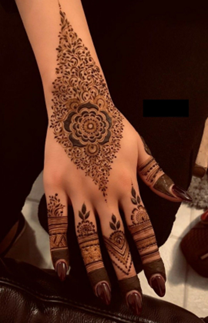 Do you wish to incorporate an element of your beliefs into your mehndi design? Then why not try this mystical Sufi-inspired Pakistani mehndi design that is subtle, and modern, yet can be customized with symbols to reflect your beliefs and cultures, and have them be a part of your special day!
8. Geometric Lattice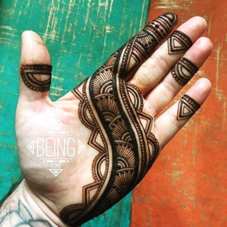 Looking for something with a more minimal and subtle Mehndi design? Then this modern Arabic-inspired Pakistani mehndi design is for you. The traditional geometric patterns are the signature Pakistani elements that elevate this easy and simple design to a whole nother level.
9. Majestic Archways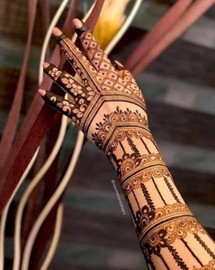 There's so much beauty and art all around us, so why not take inspiration from it and create something truly spectacular. This arch-inspired mehndi design is a perfect choice for someone who is looking for something creative and new for their celebrations.
10. Vibrant Mughal Motifs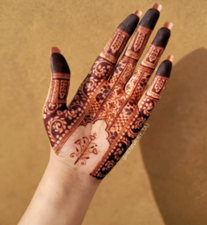 In search of a modern-traditional fusion design? Then this is for you! Mughal motifs and patterns are known for their beautiful floral patterns and elegant lines and spaces and are some of the most commonly utilized and highly sought-after Arabic Pakistani Mehndi designs.
11. Delicate Ferns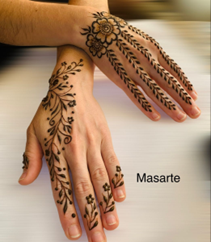 In search of a design that is delicate and subdued? Then why not opt for this simple Pakistani Arabic mehndi design? The ferns and vines combine beautifully with small and delicate flowers to create an elegant and simple look!
12. Ethereal Swirls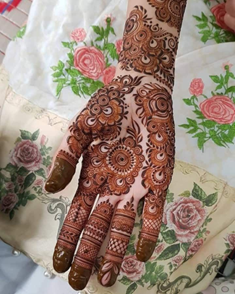 Swirls and florals are a great combination together! The free-spirited nature of floral motifs and patterns, when mixed with the structure and placement of circular patterns and elements, create an ethereal design that's fit for royalty.
13. Whimsical Daisies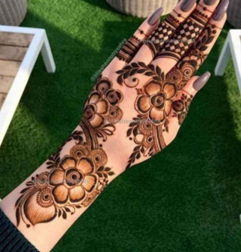 Daisies are yet another popular motif when it comes to mehndi designs. This modern Pakistani Arabic mehndi design is a perfect example of how one can use the negative spaces and daisy motifs on the hand to create a subtle impact with their art. A design that's gorgeous yet relatively on the easier side, the ideal choice for someone seeking a quick updo.
14. Majestic Mandala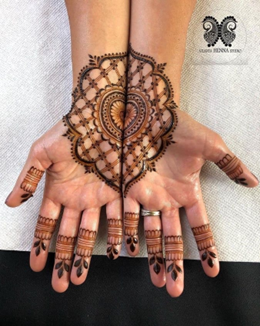 Mandalas are a great way to bring symmetry and elegance to any mehndi designs while still keeping them crisp and neat. This simple Pakistani Arabic Mehndi design perfectly blends elegance, structure, and royalty!
15. Heavenly Designs and Patterns

Stars, vines, ferns, and geometric shapes come together in this unique Pakistani Arabic mehndi design that exudes heavenly elegance. The elements are placed in the most cohesive and seamless pattern that enhances each other's appeal even more, making this design ideal for a modern bride or anyone wishing to switch things up a bit!
16. Shaded Lilies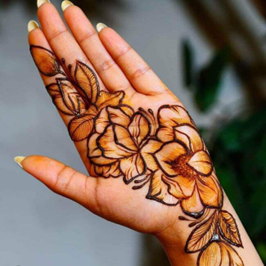 Shading is a great technique to add layers and depth to your design and make the elements really pop. If you have booked an experienced mehndi designer for your special event, then why not explore this shaded lily pattern for a more elegant and simple look.
17. Geometri Harmony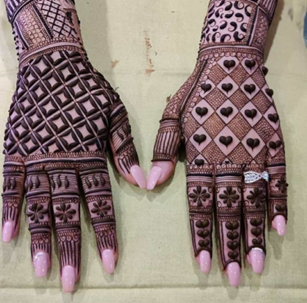 Are you in search of a look that is mesmerising and visually elaborate? Then why not explore this modern and stylish Pakistani Arabic mehndi design that will tick all your boxes! The intricately placed patterns and motifs come together to create a look that will put any viewer into a visual trance.
18. Floral Fusion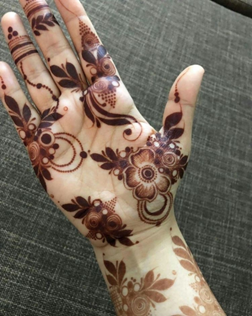 Are you in search of something safe yet beautiful? Then why not explore this minimal floral design? This Pakistani Arabic mehndi design is a perfect blend of delicate floral motifs and sparingly placed vines, a signature trait of the Arabic style, making this a perfect choice for someone seeking an easy and simple look.
19. Delicate Chains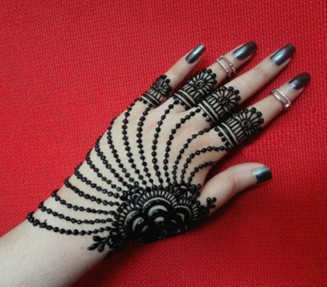 This delicate chain motif design is truly a unique one. The chains are placed together to create a look of an ornament, making it a perfect choice for an event which doesn't allow you to wear too much jewellery!
20. Motifs Harmony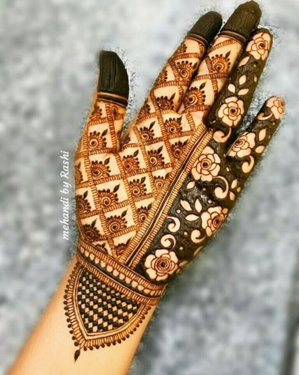 Are there multiple motifs and patterns across styles that you really love? Then why not incorporate them together to create one beautiful design? This gorgeous harmony of Pakistani, Mughal, and Arabic motifs creates a design that is not only unique but also eye-catching!
21. Dotted Trails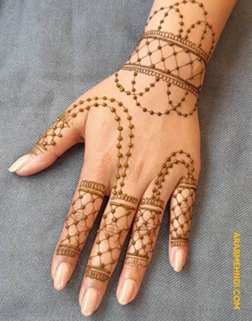 Do you want to explore a design that is modern and fresh? Then why not try this simple dotted Pakistani Arabic mehndi design that is quick, easy, and elegant? The lines and dots are used to create the illusion of hand jewellery making it a great addition to juxtapose a heavily embellished outfit for your big day!
22. Butterfly Motifs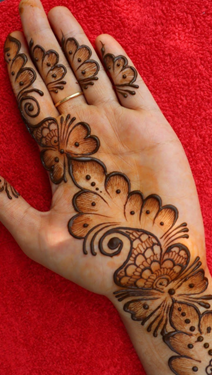 Butterfly motifs are a great way to incorporate a fun and cute element into your mehndi design, making it more ideal for those belonging to a younger age group. This simple Arabic design is perfect for small children as it attracts them with butterfly motifs and is fairly simple to create.
23. Enigmatic Maze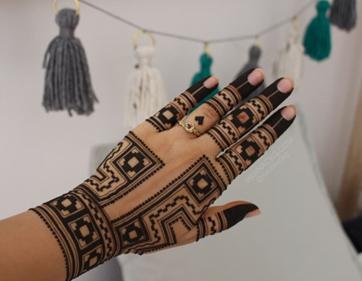 Want to create a fun and creative look? Then this maze-inspired Pakistani Arabic mehndi design is a perfect choice for you. It consists of modern elements mixed with traditional placements, making it perfect for all outfits and occasions.
24. Lush Foliage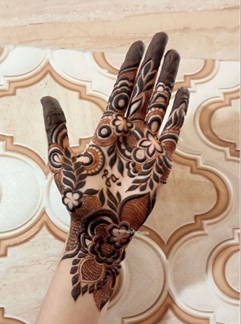 A foliage motif or pattern is a great addition to any mehndi design giving it a more complex and lush feel. If you're someone who's short for time but still wants a more full and elaborate look, then this lush foliage mehndi design is for you.
25. Stained Glass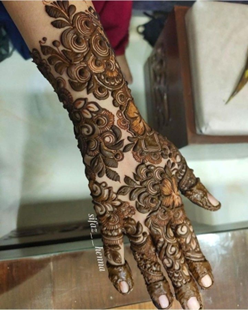 Stained glasses are a beautiful depiction of artistic and creative liberty, and this Arabic-Pakistani mehndi design takes inspiration from them. The floral motifs are placed close to each other with negative spaces in the centre to mimic the look and feel of a floral stained glass window adoring the walls of popular sites and buildings.
26. Mystic Circles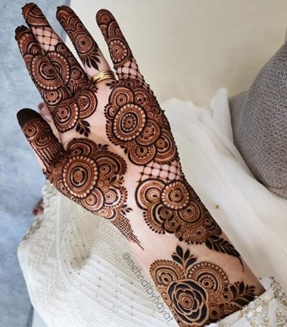 Circle motifs and patterns add a unique charm and personality to your look, making this beautiful and ethereal mehndi design perfect for a grand event!
27. Regal Diamonds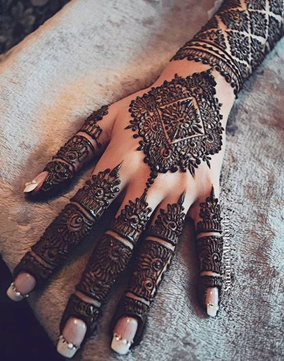 What could be more regal than diamond motifs? If you're searching for the perfect Pakistani Arabic mehndi design for your special day, then this one's for you. The elaborate finger overlay patterns and motifs make for one truly breathtaking visual treat.
28. Modern Abstracts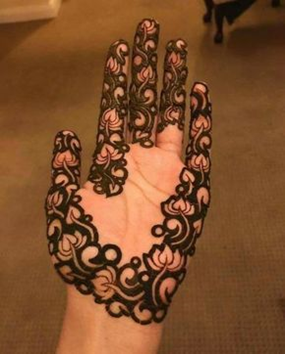 Looking for something out of the ordinary? Then this unique Pakistani Mehndi design is for you. The maximum negative space forms the focal point of this design, and the beautiful lotus motifs gently outline the edges making this look the talk of every event!
29. Ornate Hamsa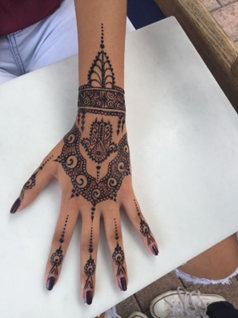 Hamsa Hands are yet again some of the more popular motifs and hold a deep cultural and spiritual significance to them. So if you were looking for ways to include a personal touch into your mehndi design, then this is the perfect choice for you.
30. Moroccan Motifs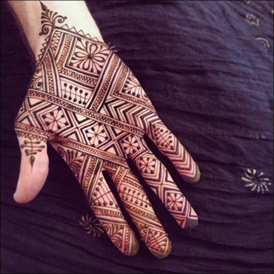 Want to add a unique touch to your simple Pakistani Arabic mehndi designs? Then why not add these Moroccan-inspired motifs to them to create a genuinely gorgeous fusion style of mehndi!
31. Crescent Moon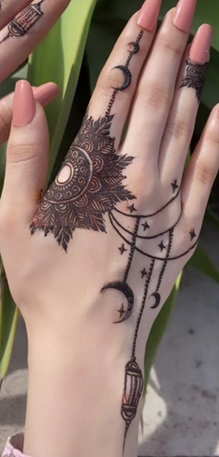 Moons are delicate yet highly impactful motifs that can elevate your mehndi design in seconds. If you want to explore a more simple and delicate design but still make it impactful, then this moon motif mehndi design is for you.
32. Arabic Script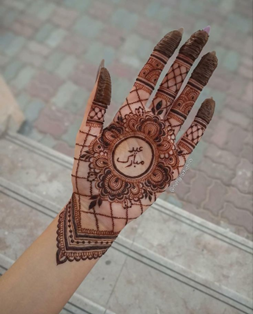 The best thing about mehndi or henna art is that you can customise it exactly the way you want! There is no hard and fast rule of how it is supposed to be created, and hence, if you're looking to include a piece of your beliefs or upbringing into your mehndi design and convey a meaningful memory, you can do that by adding in Urdu scripts to the design.
33. Filigree Finesse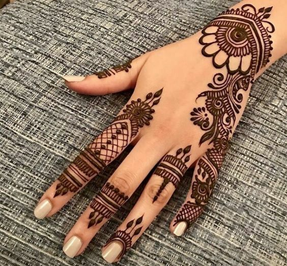 Filigree motifs and patterns are a significant filling element and can elevate the entire design in just a few seconds. Look how they add so much flare to this relatively simple and elegant Pakistani Arabic mehndi design.
34. Exotic Trellis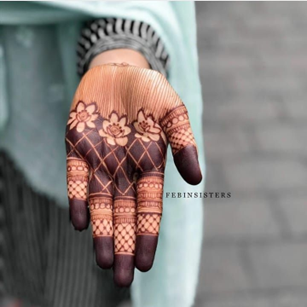 Art exists all around us, and this Trellis-inspired design is proof of that. Do you see how this elegant and minimal mehndi design recreates the grid pattern and flower vines commonly spotted in trellis?
35. Nature's Symphony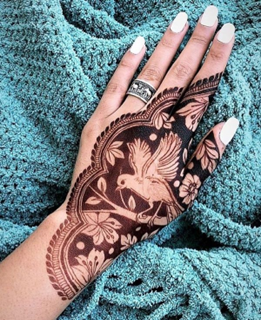 Nature has so much beauty and grace. The birds, flowers, vines, leaves, and other delicate Arabic patterns combine to create this breathtaking Nature's symphony. If you were looking for ways to pay homage to nature, then this is perfect for you!
36. Romantic Hearts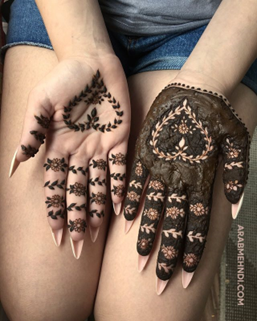 What could be more romantic than heart-shaped motifs? This simple yet stylish Pakistani Arabic mehndi design is perfect for that romantic bride who wants a quick and minimal look that can still make her feel special on her big day.
37. Contemporary Patterns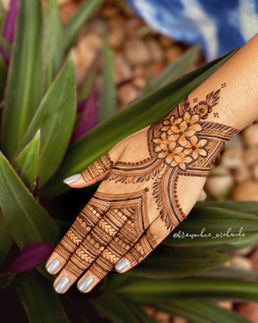 Looking for something along the lines of minimal and contemporary? Then why not try this elegant Arabic Pakistani mehndi design? The geometric patterns and minimal florals come together seamlessly to create a mesmerizing and pretty design for events and celebrations of all sizes.
38. Abstract Leaves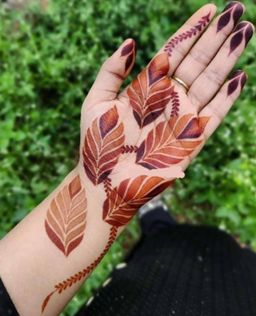 Abstract patterns and motifs are a wonderful statement piece to add a sense of uniqueness and charm to your Mehndi design. This abstract leaf pattern is the perfect example of this. If you want a quick solution for Mehndi, a design that you could possibly try for yourself, then this is the perfect place to start.
39. Celestial Patterns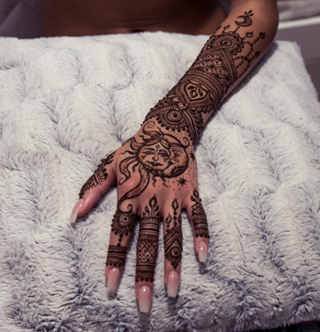 Certain elements and motifs are highly sought after and often elevate the entire design the moment they're added to them, and celestial patterns are exactly these designs. Look at how the simple addition of the Sun and Moon motifs transforms this entire look into something truly extraordinary!
40. Eye Motifs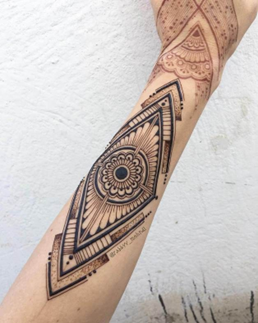 What could be more mysterious and captivating than these eyes? This eye-inspired geometrical Pakistani Arabic fusion design is a gorgeous choice for someone who wants to break the traditional rules and really explore something new and fresh.
41. Tribal Inspirations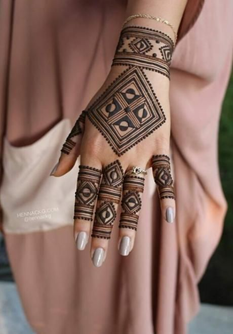 Tribal motifs and patterns are generally easier to execute but still, create a beautiful outcome. If you need something simple yet pretty, this Pakistani Arabic mehndi design inspired by tribal art and patterns is what you're looking for.
42. Heavenly Dreamcatcher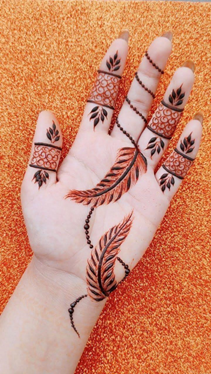 Dreamcatchers are symbols of positivity and good energy, and it might be a great thought to incorporate their design elements into your mehndi look for your big day. This simple Arabic Pakistani mehndi design is elegant and aesthetic, making this the perfect choice for someone seeking a subtle yet vibrant look!
43. Arabic Rhythms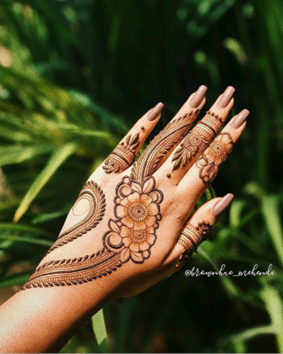 Arabic patterns and styles are known for their movement and unidirectional flow. This elegant Pakistani Arabic mehndi design is reflective of just that!
44. Serene Waves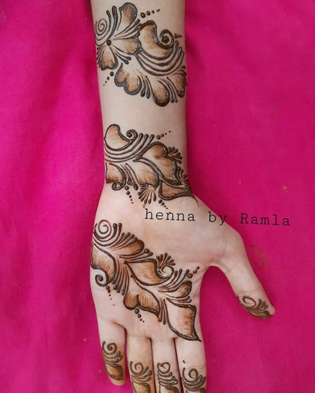 Looking for ways to add a sense of depth and illusion to your mehndi designs? Then why not try this unique Arabic Pakistani-inspired Mehndi look? The shaded florals and leaves almost seem to wrap around the hand and flow in one direction, depicting the movement of waves in a body of water.
45. Intricate Lace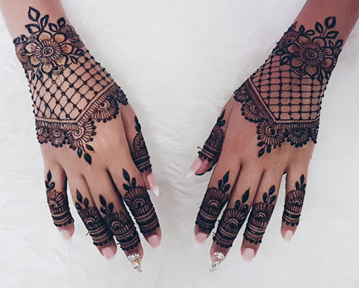 Intricate lace patterns are a great way to add a touch of royalty and sophistication to your look without compromising on the feel of your mehndi design. This fusion Arabic Pakistani mehndi design is the perfect choice for someone looking for a subtle yet royal look!
46. Paisley Poetry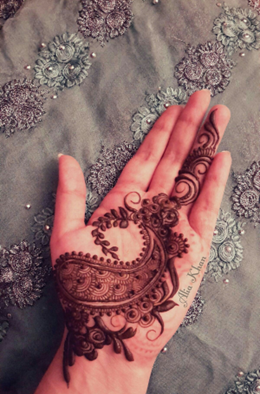 If you want a safe option, a pattern you know you will love, then paisleys are for you! These are a bit more traditional than some of the other designs that we've discussed but can be made extraordinarily modern and contemporary with the proper fusion of elements and motifs.
47. Henna Constellations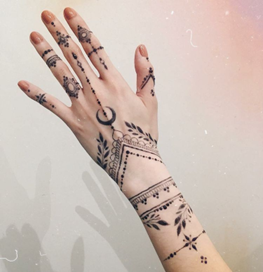 This constellation and space-inspired mehndi design is perfect for all age groups. It is subtle and minimal, yet very attractive, making it a perfect choice for everyone and all occasions!
48. Playful Lines and Patterns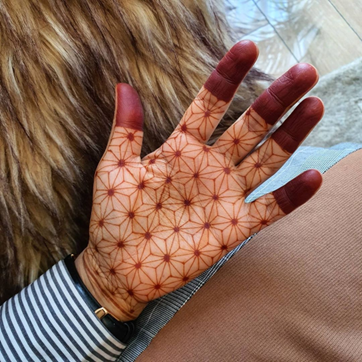 If you're someone who wants something simple yet very creative, then why not explore this geometrical illusion pattern? It is a rather simple Pakistani Arabic mehndi design with its signature lines and dots, but has a touch of African geometrical elements to it.
49. Cuff Motifs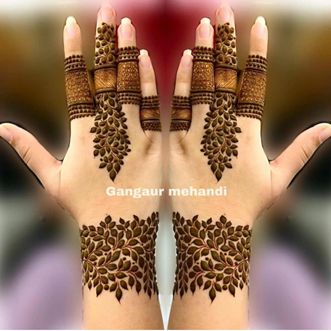 These cuff motifs are a great way to mix things up and create the illusion of jewellery and ornaments for your special day. They are easy to execute and are very appealing to the eye!
50. Vibrant Hues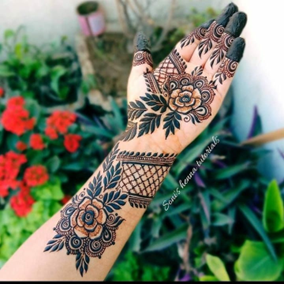 Mixing net patterns with florals and ferns is a great way to add vibrant hues to your look. This unique and stylish Arabic Pakistani mehndi design is the perfect choice for someone seeking a more feminine and floral look!
51. Modern Fusion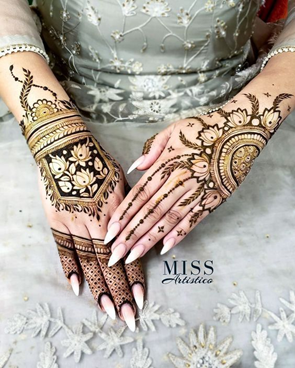 The best part about picking trending designs is knowing they'll look good no matter what. Take this fusion mehndi pattern for example. It has a Mughal-inspired lotus motif surrounded by ferns and vines and even has a touch of geometry and celestial symbols. A perfect harmony of elements indeed!
52. Elegant Symmetry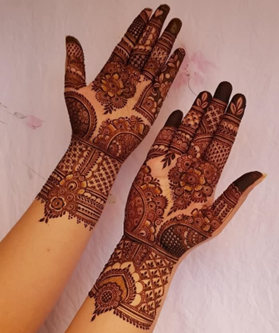 Symmetry in designs and patterns elevates the visual appeal of any artwork, and mehndi or henna is no exception. Take a look at this beautiful symmetrical design. The florals and geometrical motifs also seem fixed like the pieces of the puzzle while still having a sense of flow and energy to them!
53. Enigmatic Finger Patterns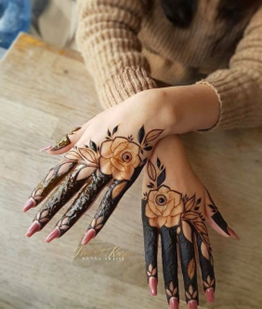 If you want a beautiful design just for photographs, you can opt for this unique floral finger mehndi pattern. As it's limited to the fingers, it does not take much time to create and still allows for a very ethereal feel to exude from the design for your special day!
54. Whimsical Feathers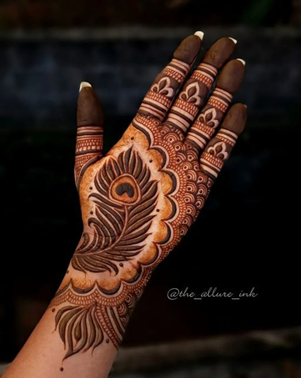 Feathers can be drawn in all different shapes and sizes, but this peacock feather motif pattern is genuinely one of the most whimsical and creative patterns out there. If you're looking for a statement piece that is truly captivating but easy to create, then this beautiful Pakistani Arabic mehndi design is what you've been in search of!
55. Artistic Spirals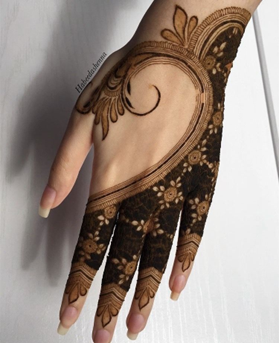 If you are in the presence of a master mehndi designer, then this one's for you! Allow them to create something completely free from with one single request – to include spirals, and who knows, you'll be left absolutely mesmerised by what they come up with. This minimal and subtle spiral pattern is a perfect example of this.
56. Mirror Motifs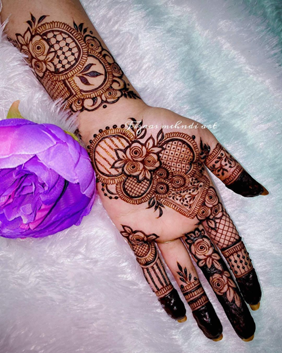 Circular mirrors are utilized as elaborate and decorative motifs in this pretty Pakistani Arabic mehndi design. The mirror motifs paired with filigree and florals create a very attractive design that will leave you feeling extra special on your big day.
57. Lacy Elegance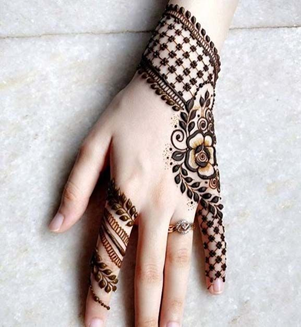 If an intricate and elaborate lace pattern is not to your taste, then why not go for a more subtle and minimal lacy pattern for your mehndi design? This finger lace pattern is perfect for someone in search of something elegant and pretty.
58. Inverted Coloring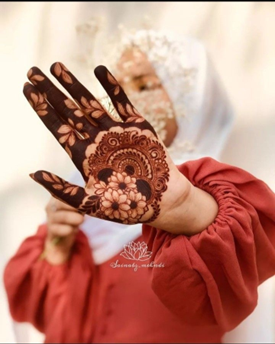 This inverted colour gradient mehndi design is all the rage! The dark background paired with delicate floral motifs creates a look that is far from anything basic and common, making it perfect for someone who wants to leave an impression.
59. Layered Lines and Patterns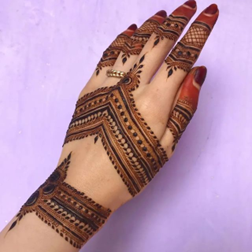 These intricately drawn lines and patterns come together beautifully to create a look that fuses modern and traditional elements together to create the perfect Pakistani Arabic mehndi design ideal for all occasions!
60. Asymmetrical Abstract Designs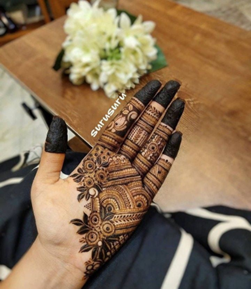 This Asymmetrical mehndi design is an excellent choice for someone in search of an elaborate yet easy design. The lines and negative spaces are complimented beautifully by the full finger caps creating one fascinating design!
61. Geometric Simplistic Designs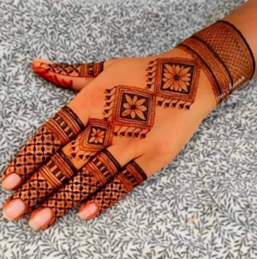 You can never go wrong with Geometrical patterns and designs! Look at this simple yet elegant Pakistani Arabic mehndi design that looks perfect for all age groups and occasions. The minimal lines and shapes create an elegant look that will complement any outfit you have on.
This brings us to the end of this fabulous list of 60+ Pakistani Arabic Mehndi designs that will surely leave you wanting to explore them further and get yourself one as soon as possible.
Conclusion
Whether you are a bride-to-be, a henna artist, or someone simply curious about the beauty of Mehndi, this list will surely be to your liking. From delicate floral motifs, ferns, vines, and filigrees to bold geometric patterns, celestial motifs, and nature-inspired motifs, each design tells a unique story and tries to convey the artist and masterly of the designer.
Mehndi has always been celebrated as a symbol of celebration, joy, and cultural identity in different parts of the world including Pakistan and the Middle East. It brings people together and allows them to share core memories and experiences with the people who mean the most to you.
By adorning your hands or feet with these stunning designs, you are not only embracing the beauty of this particular style of mehndi, Pakistani Arabic mehndi, but you're also paying homage to the rich cultural traditions that have been passed down through generations.
So, whether you opt for a more traditional or contemporary design, wear it with joy and happiness and cherish the memories that come with it.
Pakistani Arabic Mehndi Design FAQs
What other styles of Mehndi are there?
There are multiple styles and designs of Mehndi, ranging from minimal and more floral looks to something that's highly elaborate and customised. You can even explore portrait-style Mehndi designs, Indian Bridal, Marwari style Mehndi, Moroccan style, Aztec-inspired, glitter Mehndi, modern and contemporary designs, and so much more. You can always look for elements you love and ask your Mehndi designer to combine them into one unique look!
Is Mehndi safe?
Since Mehndi or henna is made from the leaves of the henna plant, they're generally safe. But it's always a good idea to ask your designer about the ingredients they've used while making their Mehndi cone to ensure that it doesn't cause any skin irritations, allergies, or infections.
Who can wear Mehndi?
Mehndi is an ancient form of body art and hence, it can be worn by anyone and everyone, across cultures and borders. It's also safe for kids, but always do a patch test before application.
How do you find the right Mehndi designer?
Looking for recommendations from your close family and friends is always a much more reliable source, but you can also search online for your local artists by looking at their portfolio and requesting a trial before booking them for your special day.
Are there alternatives to Mehndi?
Yes, there are alternatives to Mehndi, like skin-safe marker pens, body paints, and other skin-friendly dyes, but Mehndi comes with a vast range of health and spiritual benefits so it might be worthwhile to try it out once.